How to Get the Most Out of Your Campus Tour
A campus tour is one of the best ways to determine if a school is a good fit for you. If you approach your campus visit with an open mind and a desire to educate yourself, you can leave feeling assured that you have all the information you need to make your college decision. As a tour guide, I know there is an abundance of information to absorb, so here are four ways to maximize the value of a campus tour.
1) Pay attention to personal stories
On campus tours, the students are the experts! I am always eager to share my love for Pepperdine through personal anecdotes. One of the best ways for prospective students to gain insights as to whether they'll thrive at a particular university is by learning about the tour guide's experience as a student.
While the tour guide reflects on their involvement, try to envision yourself experiencing these same things, and ask yourself whether these experiences speak to you. Don't forget that general information about the school will always be accessible online, so make the most of your tour by focusing on your tour guide's personal stories.
2) Don't focus on your desired major
Although it can be easy to tune out information about classes and divisions that are not pertinent to your prospective major, keep in mind that general education programs allow students to take courses in each academic division.
General facts about academics and individual majors will give you valuable insight into a school's approach to education. As you walk through academic buildings, make sure to peek inside the classrooms to get a clearer idea of what your learning experience might look like.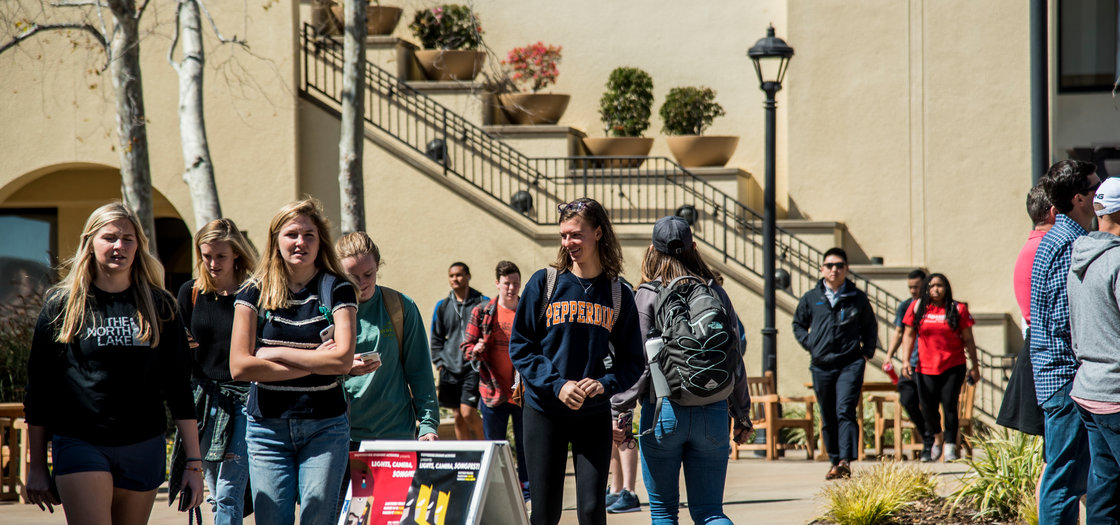 3) Notice things that stand out
If you're a campus tour veteran, you know that most schools offer a rich history, student activities, dining hall, library, new dorms, and a statue of its founder. So, focus on the things that set the university you're touring apart from other schools.
Pay attention to what the tour guide emphasizes as unique to the university. The distinctive opportunities and qualities might be important factors when making your final college decision. Asking the tour guide to elaborate on why they chose Pepperdine is a great way to determine what makes the university exceptional.
4) Get to know your tour guide
The tour guides are here for you! Getting to know your tour guide will allow you to gain valuable insight into the life of a student. After the tour completes, take advantage of the opportunity to ask any lingering or individual questions you still have.
The tour guide can be your best resource in gaining a strong understanding of all that the university encompasses. The guide's job is to make your experience enjoyable, memorable, and informative, so feel free to ask questions, request for elaboration, and laugh at their jokes!