Grand Pepperdine Celebration VI


A fantastic time was had in Palm Springs, celebrating our wonderful George Pepperdine College alumni at the sixth Grand Pepperdine Celebration!
Their beloved Dolores made the trip to Palm Springs and enjoyed being the center of a traditional Hymn Sing in the "Oasis" on Friday evening led by our own Ken Rice ('57). Over thirty GPC alumni came together to worship in song, but not before there was a battle of the GPC alumni on the golf course when Bill Watkins ('62) and John Katch ('60) enjoyed a friendly round of golf. We wanted to give a huge congratulations to John, who had the lowest score of the day.
Saturday we enjoyed breakfast and then spent a few hours together reminiscing and looking through memorabilia from their time at the original campus. Everything from a cheerleading uniform and annuals to copies of the Graphic and videos were presented for alumni to enjoy and bring back memories! Saturday afternoon alumni enjoyed some down time to gather with friends at the hotel or around Palm Springs. It was so nice to hear about their afternoon activities and restaurants enjoyed in the area!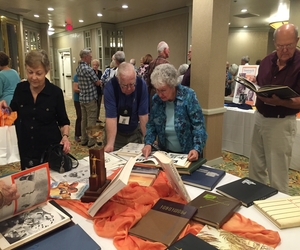 Saturday evening proved to be an enjoyable time! Alumni gathered for the evening banquet where we recognized several who have reached their 50th anniversary and are now included in the Golden Circle! Pepperdine University student worship group, Won by One, joined us for the evening to provide a fantastic song and offer a blessing for the evening and meal. Following a tasty meal we recognized Dr. James Brinton ('57) as the 2014 "Oly Tegner Award" recipient and we were then entertained by local Palm Springs performer, Steve DiTullio, who took the stage with songs by artists like Sinatra and Sammy Davis, Jr., allowing alumni to dance the night away!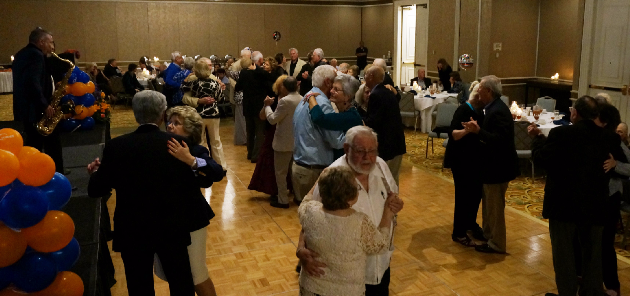 Sunday concluded our reunion weekend when we were again joined by the student group, Won by One, who led a spirited and faithful morning worship. We were so lucky to have this group of young and faithful students be a part of the celebration. We were also blessed to be joined by Phil Nash ('64) during worship, where he performed a Biblical dramatization along with a moving and faithful message.
All in all we had a fantastic time coming together as Waves, as family, and as friends. We thank those alumni who were able to join us and make the reunion weekend a success, and while we missed many of you who were not able to make the trip, know you were thought of fondly and we hope to see all of you soon!

If you would like to see more photos from GPC VI, please click HERE.