Oly Tegner Alumni Award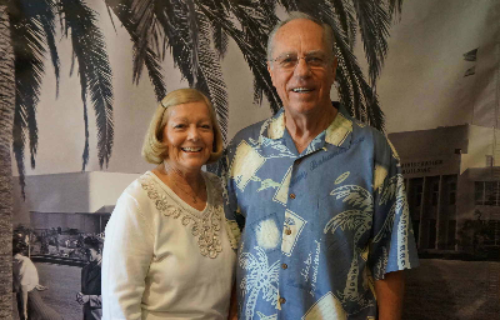 Congratulations to our 2014 Oly Tegner Award recipient!
Dr. James (Jim) Brinton
GPC Class of 1957

Pictured with Jim is his wife, Mrs. Lorraine Brinton ('60).
Named for esteemed GPC alumnus, Dr. Olaf "Oly" H. Tegner ('43), Dean Emeritus, Graduate School of Education and Psychology, the Oly Tegner Award seeks to honor those GPC alumni who lead lives of purposeful servant leadership, like Oly did. Nominees for the Oly Tegner Award are GPC alumni who have excelled in each of the following categories in their lives:
Service to Pepperdine University
Service to their communities
Service to their profession
Do you know a fellow George Pepperdine College alumnus who exemplifies Pepperdine's mission? Of course you do! Please consider nominating them for the Oly Tegner Award so their fine example does not go unnoticed!
Nominations will be accepted for the next award now through May 31, 2015.

Please include specific examples of how your nominee excels in the above criteria. You will want to gather this information before filling out the nomination form so it is handy.
IMPORTANT: Please do NOT notify the nominee that you are nominating them! This award is meant to be a surprise, and only one recipient will be chosen among the many who are nominated. If you must gather information from the nominee to help you write the nomination, please do not unveil the purpose of your questioning. It is much better if you can gather your examples from sources other than the nominee.
Alumni who have been recognized with a form of this award in the past are not eligible to receive it again. For a list of these former recipients, please click HERE.
NOMINATION SUBMISSION OPTIONS
Submit your nomination online — This is the preferred method because of how quick and easy it is. To get started, click HERE.
Submit your nomination in paper form — If you would prefer to handwrite your nomination, you may print out a nomination form, write your nomination information in the spaces provided, and mail to us. If you do not have access to a printer or are having technical difficulties, contact the GPC Alumni Relations office at (310) 506-6582 to have a form mailed to you. Otherwise, to access and print a mail-in nomination form, click HERE.
Thank you for helping us recognize outstanding GPC Waves!