Seaver Graduate Studies Colloquium and Dinner
The Seaver College Graduate Scholarly Colloquium and Dinner is a bi-annual event. Each semester the colloquium is hosted by a different graduate program at Seaver College. These speakers are well-known writers, scholars, or researchers in disciplines related to the graduate programs. The evening is a time for graduate students to gather for a meal and to engage in academic discourse.
Spring 2017 | Roslyn Satchel
---
Roslyn Satchel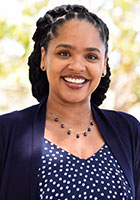 Dr. Roslyn Satchel focuses on intersectionality in media, religious and legal texts. For nearly a decade, she was a successful policy advocate and non-profit executive in domestic and international human rights. Her policy briefs address issues such as child sexual exploitation, conditions of incarceration, indigent defense, and charging and imprisoning children as adults.
Dr. Satchel has been named among Ebony Magazine's "30 Young Leaders of the Future," and media outlets such as CNN, C-SPAN, Newsweek and Essence Magazine have featured her work.
---
Past Speakers