Meet the Faculty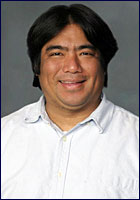 Kevin M. Iga
Professor of Mathematics
Division: Natural Science Division
Office: Rockwell Academic Center (RAC) 129
Phone: (310) 506-4313
E-mail: kevin.iga@pepperdine.edu

Ph.D. Mathematics, Stanford University, 1998
B.S. Mathematics, Massachusetts Institute of Technology, 1992
B.S. Physics, Massachusetts Institute of Technology, 1992
Courses:
Probability and Linear Algebra
Calculus
Math Freshman seminar
Projective Geometry
Topology
Key Awards/Affiliations:
American Mathematics Society
Mathematics Association of America
Academic Interests:
Applications of Microbiology techniques to New Testament Textual Criticism
Differential geometry approaches to General Relativity Change
Furuta-like estimates for open four-manifolds with cylindrical end
Morse Theory
Supersymmetry
Selected Works:
Moduli Spaces of Seiberg-Witten Flows, Doctoral Dissertation, Stanford University, 1998.
A priori bounds on positive superharmonic functions (Joint work with Prof. Hubert Bray, MIT)
Generalized Fibonacci Sequences modulo n
What do Topologists want from Seiberg--Witten theory?, International Journal of Modern Physics A, Vol. 17, No. 30 (2002), 4463-4514.
Selected Links: