Six Seaver Alumni Receive Fulbright Fellowships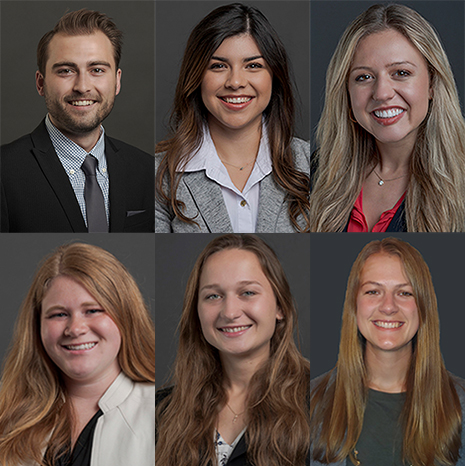 Six Seaver College alumni—Anthony Adducci, Erika Bartlett, Brianna Beiler, Chanel Diaz, Rachel Munzar, and Rebecca Pankratz—received prestigious Fulbright fellowships for the 2019-2020 grant year in which they will perform independent research or serve as English Teaching Assistants (ETA) around the world.
As the largest United States exchange program, Fulbright sponsors international study, research, and teaching opportunities for over 1,000 students each year. Fulbright is highly selective, and applicants are considered for their professional, academic, and personal achievements. Seaver College seeks to equip Fulbright applicants with the experiences they need to be competitive. Additionally, "Seaver's fellowship office partners with students throughout the application process," states Dana Dudley, assistant dean of special academic programs.
Adducci was awarded a grant in Slovenia to perform conservation genetics research on the local brown bear population. He is excited to "explore everything Slovenia has to offer," and he credits the Summer Undergraduate Research in Biology (SURB) program at Pepperdine for preparing him to be a strong applicant and providing him with the tools to complete meaningful research. Bartlett, a graduate from the business administration and religion divisions, will travel to Germany to serve as an ETA from September through June.
Near the end of August, Munzar will begin her ETA fellowship in the Czech Republic with a four-day orientation on the education system. "I am most looking forward to forming connections with my students," Munzar shared. Beiler and Pankratz, both graduates from the International Studies division, will spend around 13 months teaching English in South Korea. Their fellowship begins with a six-week training course to orient them in South Korean language and culture before they are placed in a school. Diaz, another graduate from the International Studies division, was awarded an ETA in Morocco, where she will teach English with faculty at Morrocan public universities. Diaz begins a three-week orientation in late August and will remain through early July of next year.
Pepperdine and its students commit to fostering global relationships through Fulbright and other graduate fellowships. If current students are interested in applying for a Fulbright, the campus deadline is September 11, 2019. More information on Graduate Fellowships at Pepperdine can be found here.