Seaver Graduate Students Expand Scholarship at Austin Film Festival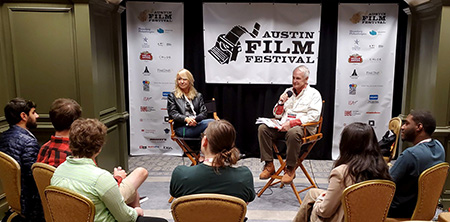 Five graduate students in the Master of Fine Arts (MFA) in Writing for Screen and Television program traveled to the 26th Annual Austin Film Festival and Writers Conference (AFF) from October 24 through October 27 for a pivotal experience to bolster their screenwriting skills.
With sponsorship from Seaver Graduate Programs and the Office of the Vice Provost, five students—William DeWitt, Brielle Yuke Li, Tanay Mankad, Gregory Morton, and Emily Rauch—attended two days of AFF's week full of panels, workshops, and film screenings. Hosted at the Driskill Hotel in downtown Austin, Texas, the festival draws hundreds of industry professionals every year due to its unique focus on screenwriting and the screenplay.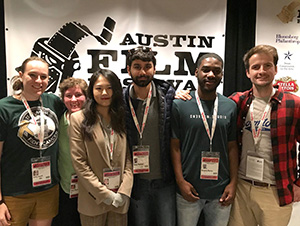 Leslie Kreiner Wilson, associate professor and director of the MFA in Writing for Screen and Television program, championed the program's involvement in the festival beginning in 2018. "It's really their equivalent of an academic research conference," she shares. Each year she has coordinated a private panel during the conference centered around a theme relevant to Pepperdine's mission. This year students had a private conversation with producer William Nix titled "Social Justice > Global Impact: A Conversation," which helped position the student's creative work as philanthropic ventures. Students were also able to screen the film Wade in the Water, written by program alumnus Chris Retts (MFA '15).
Students were free to build their own schedule of panels and workshops, besides the required private panel and the occasional shared meal and film screening. Students were emboldened by the diversity of panelists and returned with a revived creative focus. Li, who is in her third year of the MFA program, strived to attend at least four panels per day all with a special focus on cultivating her craft. Rauch not only felt inspired by attending a panel of three women writers in the gaming industry but also felt it was a practical exposition to resources on how to find internships and other professional development.
Beyond the unforgettable stories, such as Li approaching the writers of the HBO series Game of Thrones David Benioff and D. B. Weiss, the five students will continue to reflect on their experiences at the festival and incorporate their newfound knowledge into their scholarship before presenting at the annual Seaver Research Symposium in the spring.
To learn more about the Seaver's MFA in Writing for the Screen and Televisions, visit the program's website.