Pepperdine MFA Alumnus Featured in Vanity Fair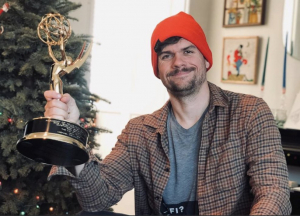 On June 3, Vanity Fair featured Master of Fine Arts (MFA) in Writing for Screen and Television program alumnus Michael Waldron (MFA '14). In the article, Waldron discusses his work as head writer and executive producer of the new Disney+ show Loki and his past and upcoming projects, including the second Doctor Strange and a new Star Wars film.
Waldron began his career while still at Pepperdine as an assistant to Dan Harmon, the co-creator of the television show Rick and Morty. Waldron eventually became a writer on the show, and, in 2020, he won an Emmy for his work as a writer and producer on season 4 of the television series. Recently, Waldron wrote and produced Loki, a new Marvel show released on June 9; wrote Doctor Strange in the Multiverse of Madness; and accepted a deal from Disney, Marvel, and Lucasfilm, which included writing an upcoming Star Wars film.
The article also mentions two other Pepperdine alumni, Eric Martin (MFA '13) and Jeff Loveness ('10). Martin and Waldron met during their time at Pepperdine and became friends, and Martin ran the day-to-day of Loki after Waldron joined the Doctor Strange team. Loveness, who majored in film studies at Seaver College, is a friend of Waldron and the writer of Ant-Man 3, another Marvel film.
"I think he can be the guy to really kick-start the cinematic grandeur of those Wars movies," Loveness says of Waldron. "That's probably laying it on a little thick, but I really think he's the guy to do it."
In the article, Waldron talks about how his background, and specifically his love of wrestling, impacted his approach toward writing superhero films.
" aren't just gods, even the ones that are gods. They're human. They're broken just like us," Waldron says. "So whether it's a towering, hulking wrestler in the middle of the ring or a pompous demigod shooting green balls of energy out of his hands, there's a vulnerability in there. I think that's just a really thrilling thing to get to explore."
To read the full article, visit the Vanity Fair website.