Model United Nations Team Named Distinguished Delegation at International Conference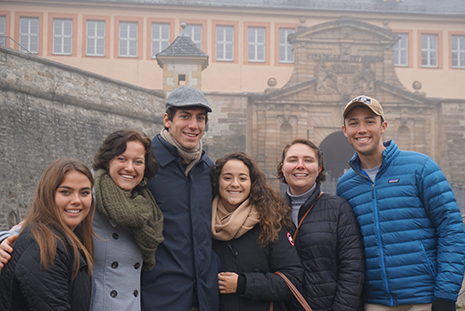 Pepperdine's Model United Nations (MUN) team traveled to Erfurt, Germany, to attend its second international National Model United Nations (NMUN) Conference. At the conference's close, the team was honored to be named one of the Distinguished Delegations for their representation of Indonesia.
Preceding the week-long trip, the team's six members—Seaver students Jordan Aldrich, Carolina Borjas, Ryan Brown, Mary Buffaloe, Filippo Maria Margheritini, and Caroline Sisson—spent nearly eight months preparing for the conference. Their summers were filled with collaborative efforts to research the challenges and issues faced by Indonesia and draft position papers. Margheritini, an international student from Italy and team president, was able to visit with the deputy chief of mission of Indonesia in Italy for a deeper understanding of the world's largest island country.
On November 23, 2019, the students arrived in Erfurt eager to begin a week of scholarship, diplomacy, and expeditions to important cultural memorials. In addition to 12-hour days of committee sessions in which they presented topics such as women in development and strengthening nuclear safeguards, the delegates gathered to hear a speech by the president of the Federal Republic of Germany, Frank-Walter Steinmeier.
The team's efforts did not go unnoticed by the conference organizers. Not only was the team awarded the Distinguished Delegation honor, but Margheritini and Buffaloe were named outstanding delegates for their contributions to the security council committee. And while the program is a simulation, the work that goes into it has a real impact. The resolutions passed, after laborious contributions from each delegate, are sent to the German president who decides which to forward to the secretary-general of the United Nations, António Guterres.
Reflecting on the experience, Margheritini said, "Hearing speech was personally inspiring. He talked about how the relationships we make are those that build the international relations of the future. It was empowering, and what I feel MUN is all about—empowerment and building relationships that shift not only our personal futures but also our collective future."
Pepperdine MUN's participation in international NMUN Conferences was spearheaded by the former team president Morgan Bedford ('19) in November 2018 when she led the team to Xi'an, China, with support from the Seaver dean's office.
The team has begun preparing for their next NMUN conference in New York in March 2020, where they will be representing Australia. To learn more about Pepperdine's MUN, contact them at peppmodelun@gmail.com or connect with them on their Instagram or Facebook.