Model United Nations Named Distinguished Delegation at National Conference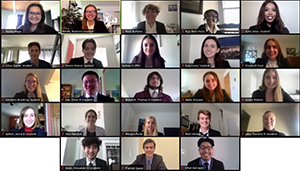 Pepperdine's Model United Nations (Model UN) team recently participated in this year's National Model United Nations (NMUN) New York Conference. The team represented Mexico at the virtual event and was honored to be named one of the conferences' Distinguished Delegations among three additional awards.
The team prepared in the months leading up to the conference by engaging in speech and debate practice, researching various issues and challenges facing Mexico, and practicing conference simulations. Team members are assigned to committees ahead of the conference and become "mini experts" in their individual area, according to Matt Hempy, a senior international studies major and member of the Model UN team.
"This year, with everything online, there was definitely an adjustment period," shares Patrick Grace, a political science major. "But we were able to adapt to doing it all virtually, and we ended up doing really well."
In addition to the Distinguished Delegation award, Hadley Biggs, one of the co-presidents of Pepperdine's Model UN, was named outstanding delegate. Two other individualized awards were awarded to two of the committees. They each received a Position Paper Award for their submissions, one of which was on promoting rural entrepreneurship, sustainable development, and industrial development in Africa and the other on nuclear non-proliferation, stopping the illicit weapons trade, and cybercrime.
The team's accolades at this latest conference are not a surprise. In 2018, former team president Morgan Bedford worked with the Seaver dean's office to secure funding for the group to participate in the team's first-ever international NMUN Conference in Xi'an, China. In 2019, the team won four Outstanding Position Paper awards, and in 2020, two students were named outstanding delegates. Since 2019, the team has been recognized as a Distinguished Delegation three years in a row.
"Model UN is such a great experience and group to be a part of. This is a group that's smart, hardworking, and interested in how the world works and how we can solve some of the biggest issues of our time," shares Hempy.
To learn more about Pepperdine's Model UN team, contact them at peppmodelun@gmail.com or connect with them on their Instagram or Facebook.