Fulbright Scholar Encourages Students to Apply to the International Fellowship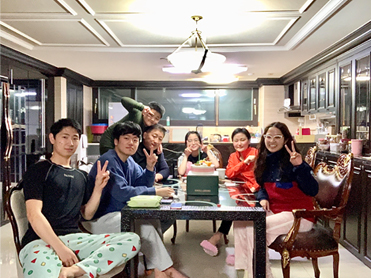 In January 2021, Seaver alumna Diana Inguito began her Fulbright fellowship as an English Teaching Assistant (ETA) in a small town in South Korea. Despite her focus on teaching, Inguito shares how her experiences and responsibilities as a Fulbright scholar go beyond teaching English classes and how any student could benefit from the powerful experience.
"During Fulbright orientation, we were told that we aren't just teachers –– we're cultural ambassadors for United States diplomacy. Our main goal is to build relationships through teaching and to be involved in the community," reflects Inguito.
Because of this goal, Inguito's day does not only include teaching English classes. She wakes up when the sun rises and begins teaching herself Korean. When she arrived in South Korea in January, she did not speak any Korean, but she believes that learning the language is essential for deepening relationships in the community. After studying, she teaches four to five English classes before she spends time playing in the gymnasium with the students, attending art class with them, or engaging with them through other activities. When school is over, her day is still just getting started.
"Sometimes I spend my afternoons walking around and exploring or learning more about local customs, but right now I'm working with an organization called KKOOM that works with orphanages in Korea and I'm about to begin working with a program that teaches English to North Korean defector students," shares Inguito. "In the evenings, I go home and spend time with my host family. We eat dinner together and watch Korean shows, and then, on weekends, I travel around South Korea with other Fulbright ETAs."
Inguito has settled into a comfortable rhythm in her life in South Korea, and she credits her Pepperdine experience for preparing her for her time on Fulbright.
"My whole Pepperdine experience led me to pursue a Fulbright," reflected Inguito.
Inguito studied abroad her sophomore year in Buenos Aires, Argentina, where she learned about being independent and about observing and adapting to a new culture. Throughout her years at Pepperdine, she also worked for Jumpstart. This experience helped her realize how much she enjoyed working with children and prepared her for making lesson plans and managing a classroom.
"The idea of servant leadership that Pepperdine teaches is a highly transferable skill," Inguito added. "When you have that mindset and people see it in your actions, it's easier for them to accept, trust, and welcome you because they know you'll do the same."
Inguito's interest in early childhood development and international relations was one factor that initially drove her to pursue a Fulbright. In the future, she hopes to explore how innovative technologies, such as blockchain, can help with education in countries that struggle to educate all of their children.
"I would absolutely say apply for Fulbright," shares Inguito. "Because of my time in Korea, I am more sure than ever of my passion and mission as a young adult."
The next campus deadline for the Fulbright Program is September 15, 2021. The Fulbright Program provides grants for individual research projects and English Teaching Assistant Programs. Fulbright aims to improve intercultural relations, cultural diplomacy, and intercultural competence. More information on applying for Fulbright and other fellowships can be found on the Graduate Fellowships website.