Jessica Hooten Wilson named the Fletcher Jones Chair of Great Books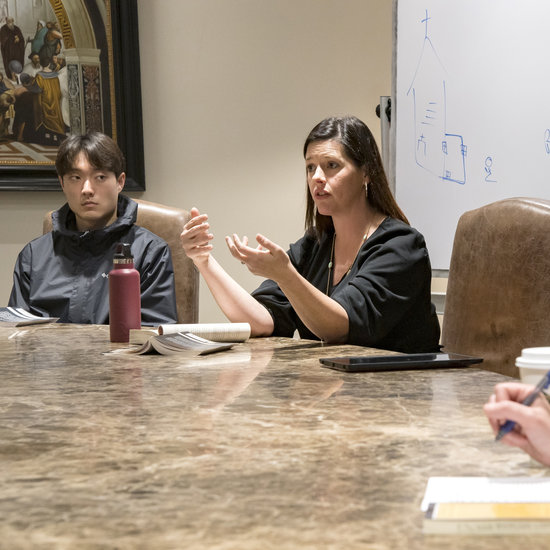 Jessica Hooten Wilson ('04) has been named the Fletcher Jones Chair of Great Books at Pepperdine University's Seaver College of Letters, Arts, and Sciences. Wilson, an alumnus of Seaver College, began serving the University in 2022 as the inaugural Visiting Scholar of Liberal Arts. She will begin her new role as a full-time faculty member effective August 1, 2023.
"Pepperdine's Great Books program gives me such hope for the future," says Wilson. "Here's a community where people are loving and living the tradition. It's where my mind and heart were first awakened to Homer, Augustine, Julian, Dostoevsky. I cannot wait to return as a teacher and scholar and invest in the good work already occurring there."
Throughout her career, Wilson has distinguished herself as a great books specialist. Since earning her Ph.D. in Religion from Baylor University, she has published six books centered around literature and the importance of reading – one of which, Giving the Devil his Due: Flannery O'Connor and The Brothers Karamazov, received Christianity Today's Book of the Year Award in the Culture and the Arts. In addition to these bound texts, Wilson has published six scholarly articles focused on Flannery O'Connor, Walker Percy, and literary pedagogy in various peer-reviewed, academic journals.
These publications, coupled with her reputation as an esteemed educator and lecturer, help characterize Wilson as a leading public intellectual. She is the recipient of the Dallas Institute in Humanities' 2019 Hiett Prize in the Humanities and has been named an Emerging Scholar in Theology and the Arts by Duke University. Additionally, she has received numerous fellowships and grants to support her scholarship. Wilson earned a Fulbright Fellowship to teach English in the Czech Republic and a National Endowment for the Humanities Grant (NEH) to study Dante in Florence.
"Dr. Jessica Hooten Wilson has been a leading scholar and advocate for Great Books, the humanities and liberal arts, and Christian higher education throughout her distinguished career in higher education," says Michael Feltner, Dean of Seaver College. "I am thrilled that she will be remaining at Pepperdine in a full-time faculty appointment as the Fletcher Jones Chair of Great Books. Dr. Wilson's appointment proclaims our commitment to the University's Christian mission and the centrality of the liberal arts to a Seaver College education. I know that Jessica will contribute richly to the education received by Seaver College students as she continues to both promote and advance the University's mission and values across our campus and throughout the world."
Prior to becoming a faculty member at Seaver College, Wilson worked as an educator at numerous higher education institutions including the University of Dallas, John Brown University, the University of St. Thomas, and Baylor University. She has also served as a professional development advisor and keynote speaker at a number of classical Christian schools and Christian colleges.
Wilson received her Bachelor of Arts from Pepperdine University in Creative Writing and her Master's Degree in English from the University of Dallas.
The Great Books program was founded at Pepperdine University in 1986 by a pair of Seaver College professors – Michael D. Gose and Victoria Myers. This unique, interdisciplinary colloquium introduces undergraduate students to the best writers and literary texts throughout history in a four course cycle. Topics such as philosophy, politics, psychology, science, and religion are all addressed within the program's curriculum and challenge participants to engage with a variety of different perspectives.
In returning to this storied program in a leadership role, Wilson hopes to further its tradition of producing students with astute critical thinking skills. Moreover, she looks forward to shepherding Seaver students toward success both at Pepperdine and in post-graduate careers and study.
Visit the Great Books Program webpage to learn more about Seaver College's academic opportunities.