George Pepperdine College Alumni Reunion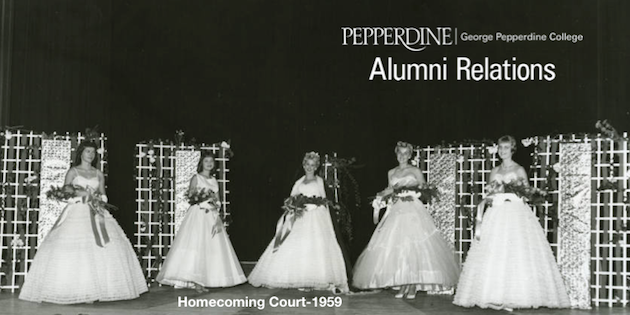 Saturday, February 8th, 2020 at 10:00AM
At the George Pepperdine College original campus (now known as the Crenshaw Christian Center)
7901 South Vermont Avenue Los Angeles, CA
We hope you will join us for the annual GPC Alumni Reunion Luncheon and Original Campus tour to celebrate our alumni who began our amazing journey at the campus at 79th & Vermont.
This luncheon, started by Oly Tegner ('43), Darwin Horn ('49), and Harry Nelson ('50), lovingly nicknamed "M.I.T.A.Y.," has served as an annual gathering for all GPC alumni and their guests for the past 28 years. This year we hope you join us at the place it all started!
We would love for you to bring photos and stories of your student days on the original campus and share them with your fellow alumni. Come join us for this special meal and gathering!
$28 per person also payable by cash or check at the door. If paying at door, RSVP to George Pepperdine College Alumni Relations at 310.506.4348 or email gpc@pepperdine.edu.
Questions about this event? Contact us at 310.506.4348 or gpc@pepperdine.edu.