International Program Alumni | Heidelberg Reunions
Heidelberg, Germany

Want to reunite with your group in Germany? Get at least 15 alumni confirmed to go and we'll help plan your trip and take care of the logistics. Email Hannah Dean for more info.
Moore Haus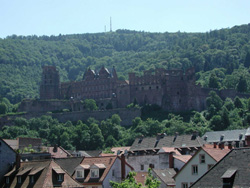 Reunions
Looking to put together a reunion locally or abroad? Let us know! Contact Hannah Dean to begin the conversation.
Program History
Learn more about the beginnings of the Heidelberg Program and the history of the Moore Haus.
Freunde von Heidelberg Giving Information
Freunde von Heidelberg was established to help raise funds to support the Heidelberg International Program. The funds raised are used to aid in Moore Haus refurbishments and to assist in the establishment of a student scholarship endowment.
Heidelberg videos
Take a look at student footage of Heidelberg and their travels around Europe.
Explore
Learn more about traveling to Heidelberg and the history of this beautiful city.
Facebook
Check-out the program's Facebook page!