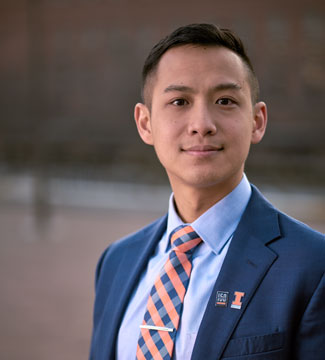 Long Tao "Pierre" Tang
Assistant Professor of Music
Director of Instrumental Ensembles
Fine Arts
, Seaver College
MB 303
Biography
Dr. Pierre Tang oversees the instrumental ensemble program, directs the orchestra and wind ensemble, and serves as the conductor for the annual musical theater and opera productions at Pepperdine University. Selected presentations of his scholarly research on conducting studies include the Oxford Conducting Institute International Conference and the California All-State Music Educators Conference.
Raised in Hong Kong, he is a sought-after guest conductor and clinician for instrumental and vocal ensembles internationally. Tang also teaches annual conducting workshops and directorship seminars in Hong Kong, including the most recent one focusing on orchestra as an operatic accompaniment. Tang currently also serves as the Director of Music at St. Matthew's United Methodist Church in Newbury Park, California.
Before his orchestral pursuits, Tang completed master's degrees in both wind conducting and choral music, and specialized in piano performance at the Chinese University of Hong Kong. His principal teachers include Donald Schleicher, Andrew Megill, Chester Alwes, Linda Moorhouse, Stephen Peterson, Dennis Helmrich and Julie Kuok, and has participated in masterclasses led by Joseph Flummerfelt, H. Robert Reynolds, Jerry Junkin, Larry Rachleff, Osmo Vänskä etc.
As a vocal coach, collaborative pianist and period keyboardist, Tang has worked with such renowned musicians as Joseph Flummerfelt, Roberto Abbondanza, Alois Glaßner, Jacques Mauger and Eric Aubier etc. Recent performances as keyboardist include St. Michael's Church in Vienna, Alice Tully Hall of Lincoln Center in New York, Chicago Symphony Center, and in the Krannert Center as continuo organist for the Illinois Bach Academy led by Andrew Megill, Nancy Wilson and Robin Leaver.
Education
DMA (Orchestral Conducting), University of Illinois at Urbana-Champaign
MM (Wind Ensemble Conducting), University of Illinois at Urbana-Champaign
MM (Choral Music), University of Illinois at Urbana-Champaign
BA (Music), The Chinese University of Hong Kong
Licentiate (in Piano Performance) of the Royal Schools of Music (London, UK)
Courses
MUS 103L/303L Woodwind and Brass Studio
MUS 128/328 Pepperdine Wind Ensemble
MUS 135/335 Pepperdine University Orchestra
MUS 200 Music Appreciation
MUS 220 Concert Attendance
MUS 280 Introduction to Music
MUS 465 Symphonic Literature
GSFA 199 First-Year Seminar: Performing and Consuming Music Together