Meet the Faculty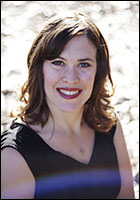 Kelle L Marshall, Ph. D
Associate Professor of French
French Program Coordinator
Division: International Studies and Languages Division
Office: Pendleton Learning Center (PLC) 103
Phone: 3105067445
E-mail: kelle.marshall@pepperdine.edu

Ph.D., French Linguistics, The University of Texas at Austin, 2011
M.A., French Linguistics, Arizona State University, 2004
B.A., French, Arizona State University, 2001
Academic Interests:
French immersion education
Instructed language acquisition, particularly the teaching and acquisition of intercultural competence
Topics in French sociolinguistics: North American varieties of French, language ideologies, and minority francophone identities
Selected Works:
Keating Marshall, K. (2016). "On a la libert&eacute de parler comme on veut": Acadian discourses of Francophone authenticity. The French Review, 89(3), 65-82.
Keating, K. L. (2014). Discourses of minority francophone space: The emergent role of an Acadian cultural center. Language in Society, 43(5), 515-538.
Keating, K. L. (2014). Le Centre culturel Aberdeen: Territoire acadien en milieu minoritaire. Linguistic Minorities and Society / Minorit&eacutes linguistiques et soci&eacutet&eacute, 4, 219-243.
Keating, K. L. (2008). "Je me souviens de rien": Political discourse in Qu&eacutebec's modern chanson engag&eacutee. In M-C Weidmann Koop (Ed.), Le Qu&eacutebec à l'aube du nouveau mill&eacutenaire (pp. 368-378). Qu&eacutebec City, QC: Les Presses de l'Universit&eacute du Qu&eacutebec.
Keating Marshall, K., & Bokhorst-Heng, W. (2016, April). Caught in the cultural abyss: French immersion teacher discourse in the context of unequal power relations. Presentation at the Annual Conference of the American Association for Applied Linguistics, Orlando, FL.
Bokhorst-Heng, W., & Keating Marshall, K. (2016, March). French immersion in New Brunswick, Canada: A historical overview of intersecting discourses and policies. Presentation at the 60th Annual Conference of the Comparative and International Education Society, Vancouver, BC.
Keating-Marshall, K., & Bokhorst-Heng, W. (2016, January). "Step away from the culture": Paradoxes in Canadian French immersion. Presentation at the Fifth International Conference on the Development and Assessment of Intercultural Competence, Tucson, AZ.
Carlsen, L., Keating Marshall, K., & Stewart, F. (2015, November). Global competence through high-impact practices in the world language classroom. Presentation at the American Council on the Teaching of Foreign Languages Annual Convention and World Expo, San Diego, CA.
Keating Marshall, K., & Ossipov, H. (2015, July). Mon français est aussi bon que le vôtre!: Teaching students about phonetic variation in North American varieties of French. Presentation at the 87th Annual Meeting of the American Association of Teachers of French, Saguenay, QC.