Success After Seaver: Class of 2018
Seaver College is committed to tracking the successes of our graduates. Our data collection is guided by the procedures outlined by the National Association of Colleges and Employers and is collected six months after graduation. This data is often called graduation outcomes or career outcomes. Students who are employed full or part time, volunteering full time, in graduate school or serving in the military are considered to have a recognized professional outcome. We have information on 96% of the graduating class, also known as a 96% knowledge rate.
Employers Who Hired the Most 2018 Grads
Disney
Fulbright
Morgan Stanley
Northrop Grunman
Oracle
PennyMac
Pepperdine University
REX-Real Estate Exchange Inc.
Self
Teach for America
Universalizer
Vivid Candi
Wells Fargo
What 2018 Grads are Doing
The 2018 Seaver College graduating class consisted of 780 students. Six months after graduation, 93% are either employed, volunteering full time, serving in the military, or have been accepted to graduate school to further their education.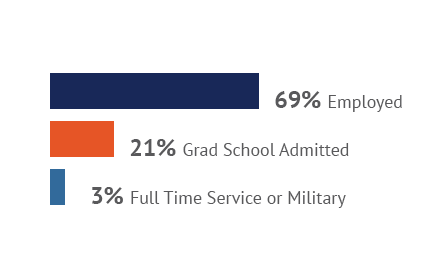 2018 Industry Breakdown
Sixty-nine percent of the graduating class of 2018 have joined the workforce. The majority of those employed work at a for-profit company while 9% work in the non-profit or government sector and 5% are entrepreneurs.
9%
Non-Profit and Government
Graduate School Breakdown
Twenty-one percent of the 2018 class chose to continue their education post graduation and are currently in a graduate program. Of those seeking admittance to grad school, 90% received admission. The top three areas of study were in arts and sciences, medicine and nursing, and law and dispute resolution.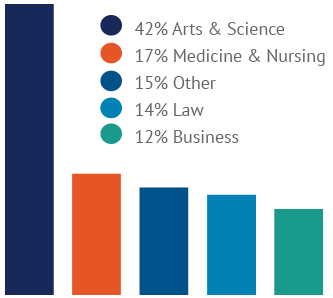 Testimonials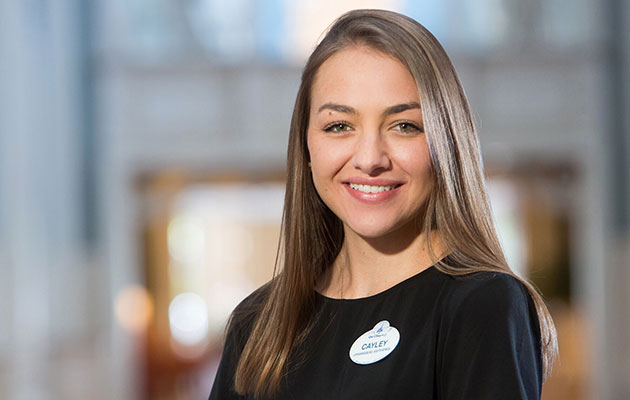 The liberal arts education I received at Pepperdine partnered with the experience I gained through internships has helped me succeed in the work place. I have been able to blend skills and expertise with well developed writing, public speaking, project management and critical thinking skills. My current role touches all aspects of marketing including digital strategy, production, creative, consumer engagement, communications, and PR for a line of business under the Walt Disney World Parks & Resorts segment. I have been immersed in complex business situations and have been forced to challenge traditional ways of thinking. I believe my undergraduate education at Pepperdine along with the exposure and experience I am getting at Disney will help me stand out when pursuing my MBA at top schools."
Cayley Olivier ('18)
Graduated with a BA in Integrated Marketing Communications
Marketing Coordinator, The Walt Disney Company
What Graduates Did to Have Positive Career Outcomes
A total of 94% of students interned, student taught, participated in undergraduate research or student employment while completing the requirements for their undergraduate degree. Seventy-nine percent of students who interned or student taught while attending Seaver College are employed or attending graduate school. Eighty-two percent of those employed or in grad school worked as a student.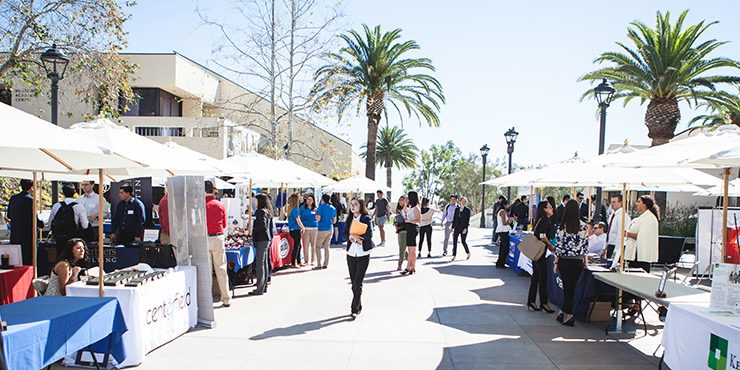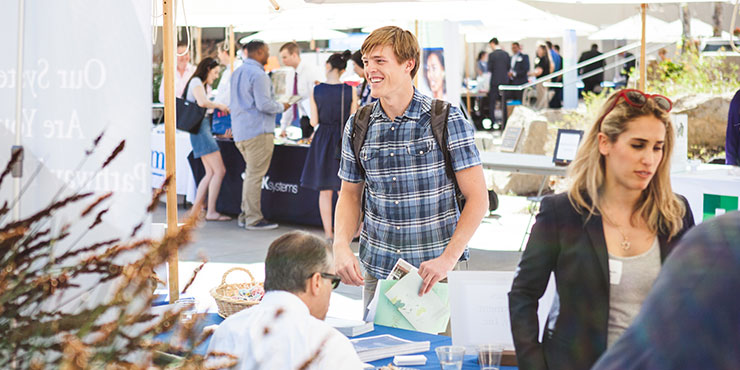 Where Grads Work and Study
United States
Seattle
Portland
Sacramento
Bay Area
Los Angeles
Orange County
San Diego
Phoenix
Denver
Dallas
Houston
Austin
St. Louis
Chicago
Nashville
Washington DC
New York
Miami
Orlando
International
---