Waves Sand Volleyball Team Wins Second AVCA National Championship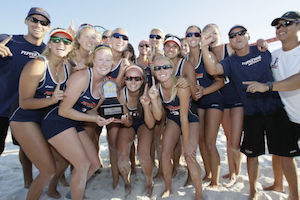 On Saturday, May 3, for the second time in three seasons, the Pepperdine sand volleyball team raised the AVCA Collegiate Sand Volleyball National Championship trophy after defeating Florida State 3-2 in Gulf Shores, Alabama.
The Waves relied on Becca Strehlow and Lara Dykstra to clinch the dual in the final match of the afternoon. Tied 2-2, it all came down to Strehlow and Dykstra, who beat FSU's Stephanie and Kristina Pellitteri in straight--albeit painstakingly close--sets.
"I thought Becca and Lara stayed really calm," said head coach Nina Matthies after the contest, "We're all really competitive and want perfection, but sometimes perfectionism doesn't necessarily win volleyball matches, or anything in life really. But they took it point by point, stayed within themselves and didn't panic.
"That's a lot of pressure right there, for it to all come down to one court," continued Matthies. "I just saw what I've seen from them all along. They're both great competitors and great players."
On Sunday, May 4, the team's top-two pairs, including Larsen and Woolever, as well as Strehlow and Dykstra, competed in the pairs championship and reached the quarterfinals of the AVCA National Pairs Championship, earning All-American status.
Pepperdine leads all sand volleyball programs with 12 All-American selections divided amongst eight student-athletes. Dykstra became a two-time All-American, joining the likes of Summer Ross, Kim Hill, Lilla Frederick, and Caitlin Racich.
This was Woolever, Larsen, and Strehlow's first time receiving the recognition.
In a change from last year, this season's All-American awards were granted to pairs who reached the quarterfinal round of the pairs championship. Larsen and Woolever opened the morning with a commanding 21-15, 21-17 win over Jessica Gehrke and Marina Boulanger of FIU before succumbing to a 15-13 loss in the third set to Keil and Metter.
Strehlow and Dykstra won in straight sets to open the day, but similar to their teammates, lost 15-13 in the third versus the Rainbow Wahine's number one team of Tiegs and Cook. The Pepperdine pair wraps the year with a 23-7 record.
Strehlow now holds a special place in program history, becoming the Waves' second student-athlete to achieve All-American status in both indoor and sand volleyball in a singles season. As an indoor player, the sophomore setter was an honorable mention All-American.
Waves women's sand volleyball first took the national title in 2012, the team's inaugural year as part of the athletics program at Pepperdine, becoming the first women's team at Pepperdine to capture a national title. After defeating Long Beach State in the finals, 5-0, Pepperdine's four All-Americans concluded the AVCA Collegiate Sand National Championship with the pairs tournament, where junior Caitlin Racich and freshman Summer Ross came up with a giant come-from-behind effort in the finals to capture the first-ever national pairs title.
For more information, visit the Pepperdine Athletics website.