Waves Debate Team Recognized as Faces of Change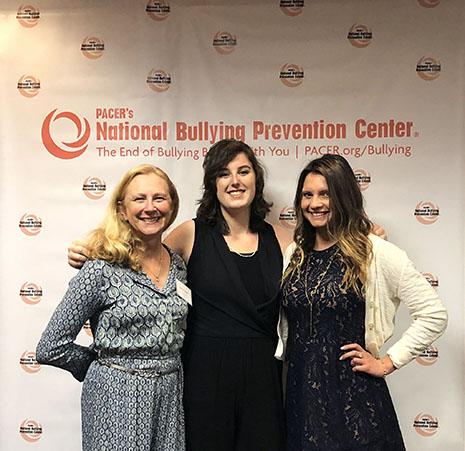 On May 22 Pepperdine students Tiffany Hall and Anne Mummery traveled to PACER's National Bullying Prevention Center headquartered in Minneapolis, Minnesota, to accept the Faces of Change award on behalf of the Pepperdine Waves Debate team and Woodlake Elementary students. The groups were recognized for their accomplishment in coordinating the celebrated "Can We Imagine a World Without Bullying" event held in Elkins Auditorium on March 26, 2019.
After weeks of coordination between Pepperdine Waves Debate, PACER, and the Pepperdine School of Public Policy, Elkins Auditorium welcomed 315 guests to the event. The idea of the event emerged from a Waves Debate team program, Let's Argue Elementary. The director of debate, Abi Smith, described the program as a tool for young people to "take their frustration and use it in a productive manner." At a program meeting, Smith met Judy French, PACER's Los Angeles representative, and the event quickly began taking shape.
The event showcased the professionalism and talent of the elementary students while also allowing Waves debaters and the elementary debaters to share personal anecdotes about a topic that impacted each of the participants. A post-event survey showed that 100 percent of attendees felt they heard a new point of view, and 78 percent felt they left with a better understanding of the unique ways bullying can occur.
In response to being recognized for the Faces of Change award, Hall said she was "filled with gratitude and so excited to represent Pepperdine in this way." She plans to spend this summer reflecting and focusing on wellness as she prepares to be even more involved in the community this fall. Mummery responded to news of the award in disbelief, as their motivation for planning the event was simply for an open dialogue on a personal topic. Mummery is currently interning on Capitol Hill in Washington, DC. She is looking forward to more involvement in Waves Debate in her upcoming senior year.
The last academic year was full of achievements for Waves Debate. The team launched Coffee Chats, which offer Pepperdine students opportunities to humanize both sides of occasionally divisive topics over coffee and snacks. Debaters Araceli Cresencio and Juan Carlos Hugues won the Claremont College Spanish Language British Parliamentary Tournament, the first Spanish-language debate in which the Waves team has participated. Waves Debate also fostered global debate relationships by hosting iDebate Rwanda, sending students to Kazakhstan and South Africa, and participating in online debates with the Mexican Association of Debate.
These programs are made possible by the community. To offer your support to Pepperdine Waves Debate, please contact debatepepperdine@gmail.com. Follow them on Instagram (@pepperdine_debate) and Facebook (@PepperdineDebate) to stay up-to-date on all their exciting programs.