Tuan Hoang Receives New Scholar Essay Prize for Catholic Studies in the Americas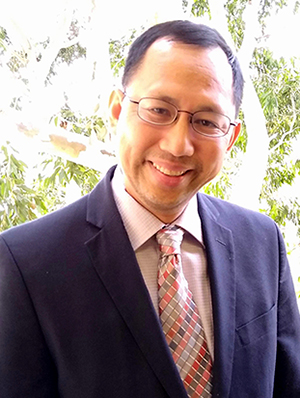 Seaver College assistant professor Tuan Hoang in the Humanities and Teacher Education Division received the New Scholar Essay Prize for Catholic Studies in the Americas. The prize recognizes his essay, "Ultramontanism, Nationalism, and the Fall of Saigon: Historicizing the Vietnamese American Catholic Experience," for its profound contributions to the study of Catholicism in the Americas.
"I am tremendously grateful for this research to be recognized," shares Hoang. "And I am so thankful for the excellent work of the Pepperdine Libraries staff to provide such helpful resources as well as the continued support of the Seaver College Dean's Office."
Published in 2019, Hoang's article illuminates the experience of Vietnamese refugees, a historically under-represented group in Catholic studies. After the end of the Vietnam War in 1975, refugees dealt with the loss of their nation, separation from family, and challenges of finding belonging in a foreign—and at times unwelcoming—culture. Hoang's research shows how this shared "exilic identity" among Catholic refugees has significantly shaped their identities even now.
Hoang joined Pepperdine's in 2013 and has since helped Seaver College students navigate Great Books and Asian American history. He also oversees The Interlocutor, the biannual newsletter for the Humanities and Teacher Education Division featuring student, faculty, and staff news, updates, and reflections. Although travel to pursue research has been postponed, he hopes to resume research soon to develop a book manuscript on the Vietnamese American Catholic experience.
To read Hoang's award-winning article, visit the American Catholic Studies digital publication.