Studio Arts Seniors Present Online Thesis Exhibition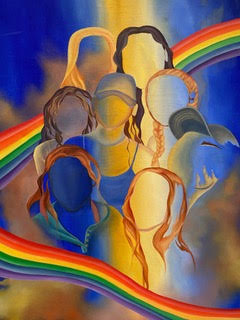 On May 6, 2021, Pepperdine University's Center for the Arts presented "Hues of Isolation," a collaborative online exhibition featuring works from the 2021 senior studio class. The exhibition features work from 11 artists—Alyssa Anderson, David Bird, Anne Marie Butcher, Zion Chang, Jess Hibler, Emily Margot Knight, Jacqueline LeCourt, Ali Mullin, Caleb Noh, Veronica Sams, and Carson Vandermade.
Each year's theme is chosen by the student artists by looking for similarities or common motifs within the collective body of work.
"We always knew it was going to have something to do with COVID and not having access to an art studio for an entire year," Mullin shared. "Art is already a bit of a lonely process because it's such an individual journey, but even more so when you don't have the support that comes from being in the studio with your peers. 'Hues of Isolation' is supposed to encompass all of the feelings about the individuality of art-making as well as encapsulate the struggles of the past year."
Student works featured include a range of media, including animation, painting, sculpture, and video, that explore a wide variety of issues including feminism, memory, inclusivity, and identity.
"My work has a lot to do with my personal relationships and trying to document the nostalgic feeling of being in the last year of college, knowing that it's going to end but being so content in the moment," Mullin explained. "I was exploring the idea of being isolated but within the bigger unit of my house and roommates. As we've become more isolated from our other communities, we've grown into each other."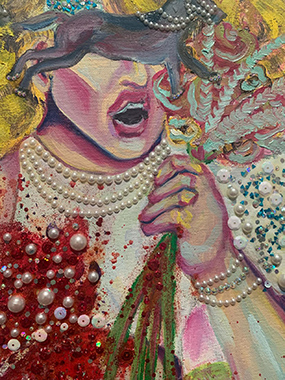 In addition to the online gallery, the students had the opportunity to install their work in the Frederick R. Weisman Museum of Art on Pepperdine's Malibu campus, a tradition for senior studio art majors.
"Being part of the senior exhibition was awesome because, when I switched to an art major sophomore year, I was working at the museum. I've worked in the museum for over two and a half years now," Knight reflected. "To finally see my work up on the wall after seeing Warhol or Jasper Johns up there was crazy. It's such a full-circle moment."
"It felt so good to hang them up," Mullin added. "That's a huge part of what it means to be a senior art major—getting that experience, working with the people in the museum to say how we want the light, the shadows, figuring out how our works fit in the space together. I feel really proud and really thankful that we had the opportunity to install our work in the Weisman."
To view the exhibition, visit the Pepperdine Studio Art website.