Seaver's Director of Strategic Employer Partnerships Named Young Alumnus of the Year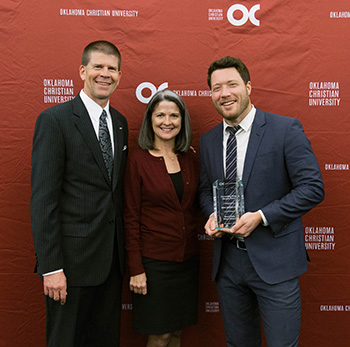 Ryan Groves (MA '15), director of strategic employer partnerships in the Seaver Career Center, was named the 2019 Young Alumnus of the Year by his alma mater Oklahoma Christian University.
Groves received his interdisciplinary bachelor's degree in Bible, business, and communications from Oklahoma Christian University (OC) in 2011. During his undergraduate career, he founded the non-profit Wishing Well to increase access to clean water. The organization quickly grew into a student movement that expanded to more than 50 universities and provided clean water to more than 40,000 people in ten countries. OC described Groves as "a true social entrepreneur." After OC, Groves moved to Malibu to pursue his master's in social entrepreneurship and change at Pepperdine's Graduate School of Education and Psychology (GSEP). Shortly after completing his master's, he became an executive at the start-up 17Hats in Los Angeles.
In December 2017, Groves joined the Seaver Career Center to support students and alumni in their career journeys. He aids in the coordination of the student-led TEDxPepperdineUniversity, which held its inaugural event in spring 2019. He has encouraged Seaver students to found the new Pepperdine Entrepreneurship Society. As an adjunct professor of communication, he teaches the importance of strong networking and interpersonal skills. Groves and his wife, Ali Rae Groves, reside in Malibu, and this summer they celebrated the birth of their first child, Galen Parker Groves.
To learn more about the 2019 Young Alumnus Award from Oklahoma Christian University, visit their website.