Seaver Studio Art Students Launch Online Exhibition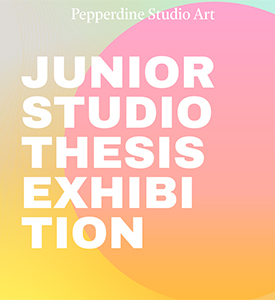 On Friday, November 13, 2020, Seaver College studio art students launched their online exhibition to celebrate the junior class and the work they created throughout the fall semester. The exhibition features work from 13 artists—Alyssa Anderson, Ally Armstrong, Alex Baker, Zion Chang, Scott Davenport, Mya Gordon, Amanda Huang, Emily Margot Knight, Yahtanae Miles, Caleb Noh, Fia Smits, Becca Tuska, and Carson Vandermade.
For many Seaver students, the fall 2020 semester was full of unique challenges like navigating the remote learning environment and dealing with the unknowns of the COVID-19 pandemic. Along with these themes, student artists explored culture, emotion, identity, and mental health through their work. The exhibition is a diverse mix of visions, voices, and mediums, showcasing their research and scholarly dedication to their craft. Although the community may not be together in person, their creative work continues to connect students, faculty, and staff in profound ways.
To explore the exhibition, visit the Pepperdine Studio Art website.