Seaver Student Success Center and First Wave Program Host Inaugural First-Generation Spring Banquet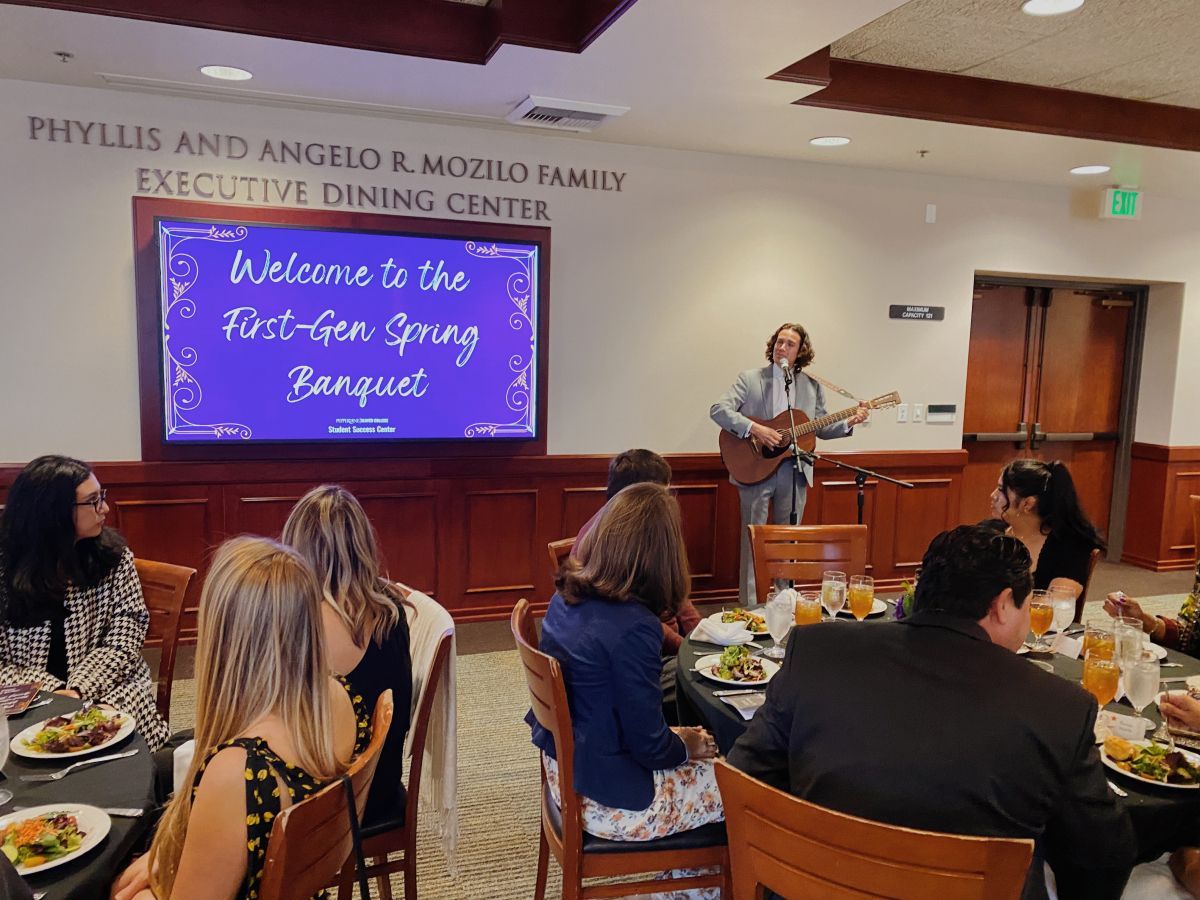 On March 31, 2022, the Seaver Student Success Center and First Wave Program hosted the inaugural First-Generation Spring Banquet at the Villa Graziadio Executive Center. The banquet honored Seaver College's exceptional first-generation seniors and alumni, provided a space for first-generation students to connect and celebrate with friends and those who have supported them on their journey, and recognized the recipients of two new awards: the First-Gen Legacy Award and the First-Gen Trailblazer Award.
The evening began with opening announcements and prayer, followed by the First-Gen Spotlight Performance featuring Everett Beau Erickson. A senior at Seaver College and a first-generation student, Erickson has opened for such acts as Andy Grammer, Florence Henderson, and the B-52s.
Following his performance, dinner was served, and the two awards were presented. The First-Gen Legacy Award, which recognizes a "distinguished, first-generation alumnus whose accomplishments inspire Pepperdine's first-generation community to pursue higher levels of service and achievement," was presented to Joel Ornelas ('05).
Ornelas, who studied chemistry while at Pepperdine, attended the Keck School of Medicine at the University of Southern California and currently serves as an Interventional and Diagnostic Radiologist and Chief of Radiology at Cedar Park Regional Medical Center in addition to being an assistant professor in the Department of Diagnostic Medicine at the University of Texas, Austin.
The second award, the First-Gen Trailblazer Award, recognizes a "graduating, first-generation senior who has demonstrated outstanding leadership, resilience, and drive at Seaver College." This award was given to Jerry Calderon. Calderon is a double-major in political science and psychology with a minor in English and has served as the inaugural Equity and Social Justice Fellow, in the Student Government Association, as president of the Inter-Club Council, and as a First Wave Ambassador, in addition to being active in many other areas of campus.
The ceremony closed by honoring the entire First-Generation Class of 2022.
"The First-Generation Spring Banquet was nothing short of amazing," senior and First Wave Ambassador Halle Bowe shared. "The banquet helped to foster a greater sense of community amongst First-Gen students, and I hope this event continues for years to come."
To learn more about the First-Generation Spring Banquet and other programs designed to support first-generation students at Seaver College, visit the First Wave Program website.