Seaver Student Shea McCollum Published in Honor Society Journal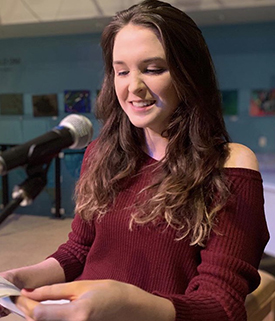 Seaver College student Shea McCollum was published in Sigma Tau Delta Rectangle, the honor society's annual creative writing journal. McCollum's poem, "Photograph of L'Arc de Triomphe, 1981," was influenced by her time studying abroad in France.
"It was inspired by the idea or fear that we all have of becoming like our parents," shares McCollum.
The poem centers on a photograph of the speaker's mother in front of the celebrated L'Arc de Triomphe. Both the poem's speaker and her mother roamed "the same cobblestone streets" at 19 years old. The piece beautifully weaves together the lives of the speaker and her mother as one experience mirrored the other.
McCollum is a senior studying creative writing in the Humanities and Teacher Education Division at Seaver College. She is anticipating graduation in May 2020 and preparing for graduate school to pursue screenwriting.
Sigma Tau Delta is an International English Honor Society that celebrates the achievements of the top 30 percent of their class. The Eta Psi chapter at Pepperdine University hosts fundraisers for the Rare Book and Special Editions display in Payson Library.
To access McCollum's poem, read the Sigma Tau Delta publication.