Seaver College Students Embark on Entrepreneurship Amidst Pandemic
Last year, in the early stages of the pandemic, many students found themselves with a considerable amount of unexpected time on their hands. While some students delved into hobbies, others ventured into the world of entrepreneurship and started their own small businesses. Their five businesses—led by Seaver students Kendall Ross, Larson Altschul, Jonathan Velarde, Sam Nicholson, Victoria Levinsohn, and Caroline King—are just a sampling of the phenomenal work students continue to contribute during a tumultuous year.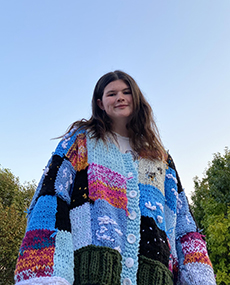 Kendall Ross didn't have any intention of creating a business when she started her knitting Instagram account, creatively entitled "I'd Knit That," in fall 2019. However, by spring 2020, her account had begun to gain popularity.
"At some point, a lot of Pepperdine people started following it. When the pandemic hit, everyone started knitting," says Ross. "That's when people started buying things."
The senior history major now has over 20,000 Instagram followers and a flourishing website. She has also expanded into creating patterns for seasoned or beginner knitters to follow. She says that much of her support has come from Pepperdine people, including faculty.
"When I was applying for graduate school, my professors kept saying, 'Kendall, you need to use this knitting thing for your applications.' I hadn't even realized they knew about the business," shares Ross. "I don't think I would be as successful without Pepperdine."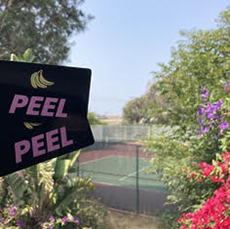 Junior sports administration major Larson Altschul also shared that Pepperdine offered tremendous support as he started Peel Pass, a Malibu-based discount service for Pepperdine students, faculty, and staff.
"Ever since I got to Pepperdine, I've always felt like there's nothing holding you back. Everybody's there to help," he shares.
When Altschul was sent home early from the Lausanne, Switzerland spring 2020 program due to COVID-19, he knew he wanted to do something entrepreneurial with his extra time. As he researched potential business endeavors, he thought about what could make the lives of Pepperdine students easier. In January 2021, the junior sports administration major launched the Peel Pass. When someone purchases a card, they get discounts at local Malibu restaurants, including Malibu Yogurt, D'Amores Pizza, Marmalade Cafe, and more.
Altschul hopes that the Peel Pass will make it more convenient and affordable for students to go to restaurants in Malibu while creating and sustaining increased business for these local eateries facing unique challenges from the pandemic. He is currently envisioning expanding Peel Pass partners beyond restaurants to local stores and other businesses.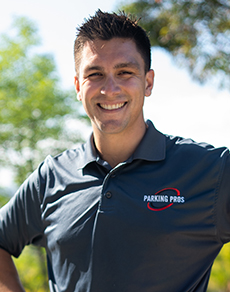 While some started businesses in the middle of the pandemic, others found it as an unexpected yet not insurmountable challenge. This was the case for senior business administration major and student veteran Jonathan Velarde who wanted to put his own unique spin on the valet parking business.
Inspired by their father who spent several decades in the industry, Velarde, his fiancé, and his brother began brainstorming throughout January 2020 to develop their business plan for Valet Parking Pros, a private event valet and shuttle service. In March 2020, just one day before the California Stay at Home order was issued, their paperwork to file as an LLC was approved.
Despite the timing and difficulties of launching during the pandemic, Valet Parking Pros has thrived due to increased safety precautions and remaining flexible and optimistic. Velarde found that Pepperdine's environment and community of passionate, perseverant students inspired him to keep going.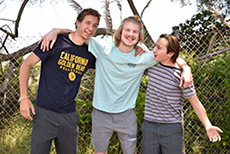 Early last year, sophomore Sam Nicholson began exploring options to develop an app related to his passion of discovering new music. As the pandemic left people craving community, the philosophy and economics double major realized just how important it is to create connection, and he put his extra time into crafting Paddle, a new app for people to connect through music.
"With the rise of music streaming services, discovering new music has never been easier, but there isn't a convenient way to share the new music you discover with your friends," shares Nicholson.
After a successful Kickstarter funding campaign late last year, the app is now in development stages. Designed like a social media platform, Paddle will allow users to share songs with friends, whether it's their favorite song or a new discovery. Nicholson found both help and inspiration from the Pepperdine community, especially from his student peers. He hopes to say thank you by exclusively releasing the app to Pepperdine and to other universities. Students will be able to join their community virtually and see what Pepperdine community members are listening to and sharing.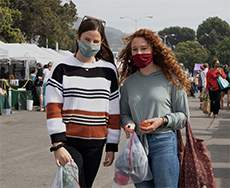 Quarantining together gave senior Victoria Levinsohn and alumna Caroline King ('20) ample time to get to know each other—so much so they even started a business together. When they began cooking dinner together every night, they started a joint Instagram account called "Quarantined Vegans." The traffic on the account and their enjoyment for preparing quality food eventually led Levinsohn and King to create CAVI Kitchen, a zero waste meal kit delivery service to Malibu locals, including a few Pepperdine professors. The duo source ingredients entirely from local farmers or the farmers market, and they carefully cater kits to individual families, including utilizing what's already in the family's home. Levinsohn and King put together the meal kits in reusable packaging. They also provide and collect compost bins to ensure as little food waste as possible. Their weekly kit deliveries to their clients' homes are a notable highlight for families balancing working and taking care of kids at home.
"We're trying to unite the ideas of nutrition, health, supporting local, and sustainability," Levinsohn shares. King adds that their goal is to "give people access to healthy ingredients as quickly as possible in a sustainable way."