Seaver College Student Awarded ThinkSwiss Research Scholarship to Explore Effects of Church Theologies on LGBTQ+ Christians' Well-being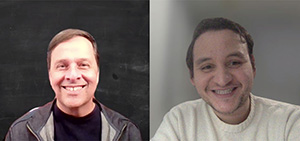 Seaver College psychology senior Juan Carlos Hugues was awarded the ThinkSwiss Research Scholarship to continue his research that analyzes how imagery and language on church websites may impact LGBTQ+ Christians' sense of belonging within the church. Hugues will begin the year-long scholarship in September 2021 at the University of Lausanne, Switzerland.
"This project hits home for me in a lot of ways," shares Hugues. "Given that Christianity in the US is at times a topic of controversy, I want to show that theology of Christ-like love is not just abstract thought but practical and evidenced through lived experiences."
Inspired by professor of psychology Steven Rouse's course on personality psychology and growing research into how imagery and language communicate to groups whether or not they belong, Hugues and Rouse collaborated to design an experimental study that examined psychological responses to LGBTQ+ affirming and non-affirming churches. For the study, US-based respondents were shown either a non-affirming or an affirming church website. These websites, modeled after real-world examples, differed in several key ways, such as inclusion or omission of pronouns, LGBTQ+ staff members, and an LGBTQ+ ministry.
Out of their 200-participant sample representing both straight and LGBTQ+ Christians from across the country, their study showed that when exposed to affirming church websites participant feelings of belonging and acceptance increased, as opposed to non-affirming church websites which caused a decrease in positive feelings.
"What's interesting too is we are seeing that these non-affirming churches are also impacting the mental health and well-being of straight or heteronormative Christians," Hugues reflects. Their data analysis showed that while non-affirming churches negatively affect LGBTQ+ Christians at higher rates, non-affirming churches had similar negative effects on Christians of all genders and sexual identities.
For the ThinkSwiss scholarship, Hugues will replicate this experiment in Switzerland, a traditionally Protestant country that has only recently legalized marriage equality. Hugues is interested in exploring whether the history of the French Protestant movement might have implications on the cultural and religious acceptance of LGBTQ+ Christians.
Upon completion of the ThinkSwiss scholarship and his master's program, Hugues hopes to replicate the project in a Latin American country, particularly in Panama where marriage equality is not yet legal. He hopes that the evidence they uncover with each study can help religious leaders take practical steps to increase mental health and well-being in their congregations.
"I would like to thank Dr. Brewster, Dr. Corrado, Dr. De Long, Dr. D. Dudley, Dr. Givens, Dr. Horton, Dr. K. Marshall, Dr. Mullins, and Dr. Rouse for all their help through the application process," shares Hugues. "This was truly a group effort, and I thank them for helping me craft a research proposal that will allow me to continue this research in Switzerland next year."
ThinkSwiss is a scholarship program managed by the Office of Science, Technology, and Higher Education at the Embassy of Switzerland in Washington, D.C. The program is funded by the State Secretariat for Education, Research and Innovation (SERI) and is supported by the Embassy of Switzerland in Ottawa, Canada. The program promotes research opportunities in Switzerland for American and Canadian students and to foster exchange between Swiss, US, and Canadian universities and research institutions.