Seaver College Senior Produces Global Tides Podcast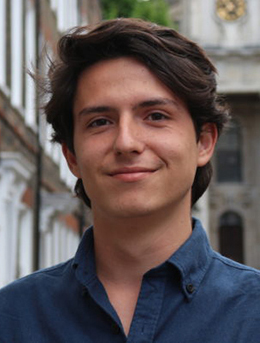 Inspired by podcasts that effortlessly blend research and storytelling and motivated by a desire to increase representation of critical social and cultural research performed by the Pepperdine community, Seaver College international studies graduating senior Daniel Iturri began producing a new podcast focused on social science research. With support from Amanda Rizkallah, assistant professor of international studies, and the Research and Sponsored Programs office, Itturi created the new Global Tides podcast.
"This has been such an enlightening learning process," Iturri shares. "I'm thankful for the support of Pepperdine's faculty and our whole community to help make this possible."
In February, 2020, Iturri began recording in Seaver College's podcast studio in the Center for Communication and Business. As the University transitioned to online learning, Iturri remained resilient and resourceful as he outfitted a closet with rolled up towels and clothes so he could record quality audio even from his apartment.
The podcast features five insightful interviews with Pepperdine faculty members and student researchers. Listeners can catch up on assistant professor of economics Julia Norgaard's research on trial backlogs in Uganda or on Seaver College senior Caroline Sisson's findings of international law and climate refugees. Other guests include Seaver College seniors Heet Ghodasara and Filippo Margharettini, professor of political science Candice Ortbals, and Seaver College junior Charlotte Lang.
To tune into the podcast, visit the Global Tides Spotify page.