Seaver College Senior Connects with Sports Industry Insiders in New Podcast Sports 4 Positivity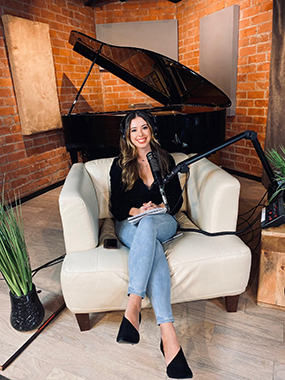 When COVID-19 changed her internship plans at the John R. Wooden Award earlier this year, Seaver College senior Jessica Campbell and her boss and mentor Ernest Baskerville partnered together to create the podcast Sports 4 Positivity.
"So many of us turn to sports and entertainment to help us get through difficult seasons, and when sports were postponed we wanted to find ways to talk with people about how they are getting through this year and what they are up to outside of the industry," shares Campbell.
Since their first episode's launch in September, the duo has released six episodes featuring notable guests—including ESPN analyst and former UCLA basketball player Sean Farnham, UCLA quarterback Chase Griffin, and Pittsburgh Steelers owner Jim Rooney. The show's energetic interviews and passionate hosts have caused it to quickly gain popularity, with guests telling friends and colleagues to come on the show. As the podcast continues to grow, Campbell shared she is looking forward to continuing their mission of cultivating positivity while highlighting charities and causes inside the sports and entertainment industry and beyond.
Listen to the podcast on Spotify or Apple Podcasts, and follow Sports 4 Positivity on Twitter, Instagram, Facebook, and LinkedIn.