Seaver College Researchers Present on Disgust Factor in Sustainable Products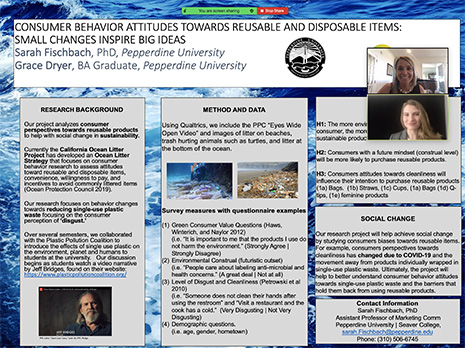 On May 28, 2020, Seaver College assistant professor of integrated marketing communication Sarah Fischbach and senior Grace Dryer virtually presented their preliminary research at the American Marketing Association (AMA) Marketing and Public Policy Conference (MPPC). The presentation highlighted the pair's project titled, "Consumer Behavior attitudes towards reusable and disposable items: Small changes inspire big ideas."
Fischbach and Dryer seek to understand consumer attitudes towards reusable and single-use items by showing survey participants images of each and asking them to provide a ranking of their likelihood to purchase and their level of concerns for cleanliness—or rather their level of disgust towards the product known to marketers as the "disgust factor." Though their research questions and methods were developed before situations regarding COVID-19 quickly changed around the globe, the two researchers are interested to see how the pandemic may influence consumer perceptions of reusable products and sustainability.
The AMA MPPC welcomes academics and industry professionals interested in marketing and social and public policy for an annual international event. The 2020 conference, originally planned to be in Marina Del Rey, California, quickly shifted to a virtual format in response to the COVID-19 pandemic. Despite the challenges, conference attendees participated in engaging conversations regarding "marketing, public policy, and moral courage in a diverse, rapidly changing world."
For more information, view their project poster on the AMA conference website.