Seaver College Fine Arts Division to Present 2019 Studio Art Exhibition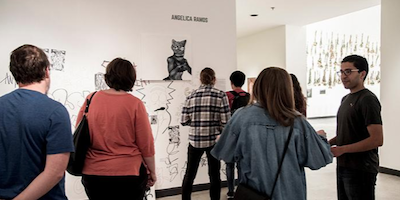 The Frederick R. Weisman Museum of Art at Pepperdine University will exhibit Underperfection from Thursday, April 11, through Saturday, April 27. Underperfection will feature works by four artists who are graduating from Seaver College with undergraduate degrees in studio art. There will be an opening reception to meet the artists on Thursday, April 11, from 5 to 7 PM. The exhibition and the opening reception are both free and open to the public.
The show will feature art from a wide variety of mediums, including painting, video, sculpture, and installation, with a rich diversity of ideas reflected in each artist's body of work. The student artists include Wesley Cha, McKenzie L. Cunningham, Tammy Hong, and Jane Yi.
Wesley Cha comes from a sculptural background. He brings ideas of trauma and healing to the forefront of the viewer's attention through the use of ceramics-based mixed media sculpture. Cha describes his work as, "My decision to use clay to reflect our humanity is rooted in clay's fluid nature... and its ability to change and retain almost any shape."
McKenzie L. Cunningham is a painter whose work touches on some of the most pressing social issues in today's media culture. Her work showcases a unique graphic struggle between perfection and disorder. "I incorporate fashion and body image in my work because it inspires my art both positively and negatively," Cunnigham says about her work.
Tammy Hong is a painter with an interest in the abstraction of specific items. Through her work, the notion of perception is denatured and questioned in a way that sheds light on the proliferation of social trends. Through her art, she seeks answers to questions such as, "Why is this something that appeals to me and so many others... how can any trend accumulate a massive following so quickly?"
Jane Yi is both a computer scientist and a digital artist. Her work embodies a bridge between the technical aspects of coding and the creative elements of digital art, intertwined with stories of her Korean heritage and Christian experience. She includes installations of visuals translated from code and 3D printed sculptures.
About the Seaver College Fine Arts Division
The Seaver College Fine Arts Division offers students excellent training in the disciplines of studio art, art history, music, and theatre arts. A group of renowned faculty who are revered in their fields as practicing scholars, artists, and teachers, prepare students for careers in the arts and continued graduate study. With approximately 300 students in the division, the unique programs are designed to prepare and inspire students to develop critical thinking, nurture creativity, and create the highest level of art and scholarship.
About the Frederick R. Weisman Museum of Art
The Frederick R. Weisman Museum of Art at Pepperdine University was dedicated in September 1992. It showcases historical and contemporary art by nationally recognized artists, but focuses on the art of California. Past exhibitions have included Rodin's Obsession: The Gates of Hell (2001), Claes Oldenburg: Drawings (2004), Chihuly Los Angeles (2005), Jim Dine: Some Drawings (2007), Roy Lichtenstein: In Process (2011), Illustrating Modern Life: The Golden Age of American Illustration from the Kelly Collection( 2013), Wayne Thiebaud: Works on Paper (2014), Chuck Close: Face Forward (2015), Andy Warhol: Life and Legends (2016), and Larry Bell: Pacific Red (2017).
The museum is open Tuesday through Sunday, from 11 AM to 5 PM, and is closed on Mondays and major holidays. There is no admission charge. For additional information about Underperfection, visit the Weisman Museum website.