Seaver College Business Administration Division Celebrates Independent Accreditation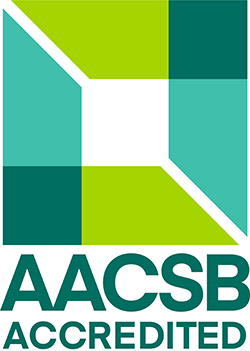 On January 30, 2020, the Association to Advance Collegiate Schools of Business (AACSB) announced the accreditation continuation of Seaver College's Business Administration program. This year marked the college's first request for accreditation review independent of Pepperdine's Graziadio Business School.
"This achievement represents a tangible recognition of the hard work and dedication of our faculty and staff to improving the standard of education for our students. I am eager to see this trend continue," shares Dean Baim, divisional dean of the Business Administration Division.
To meet the AACSB's comprehensive requirements and obtain the association's accreditation requires the school to engage in several years of meticulous internal program review. It includes collaboration with staff, faculty, and students in the Pepperdine community. After a final peer-reviewed evaluation, the AACSB's board of directors votes to confirm institutions based on their alignment with the highest standards in business education. The Seaver College Business Administration Division is one of only 43 global undergraduate programs independent from graduate programs to have achieved accreditation.
"AACSB congratulates each institution on its achievement," says Stephanie M. Bryant, executive vice president and chief accreditation officer of AACSB. "College has demonstrated a focus on excellence in all areas, including teaching, research, curricula development, and student learning. The intense peer-review process exemplifies its commitment to quality business education."
Since 1916 the international nonprofit AACSB has connected educators, students, and businesses to create the next generation of leaders. With more than 840 accredited business schools worldwide, it focuses on the highest standards of business education excellence.
To learn more about accreditation, read the AACSB press release.