Seaver College Announces New Chris and Amy Doran Climate Fellowship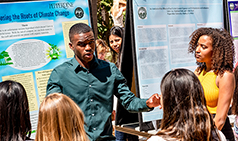 The Seaver College Dean's Office has announced the creation of the new Chris & Amy Doran Climate Fellowship. The fellowship supports one rising senior who wishes to pursue a project that could result in the significant elucidation of the effects of anthropogenic climate change to the Seaver community or a project to mitigate Pepperdine University's contribution to climate change.
"Our desire for this fellowship is that it will give students an opportunity to do serious research that they're compensated for and give Pepperdine an opportunity to show that it's supportive of their efforts," Chris Doran says. "Students need to feel empowered by knowing what the University finds important and having a fellowship like this gives at least one student each year the opportunity to believe that the thing that they are passionate about is important to the University too."
To be eligible, students must have demonstrated a deep commitment to educating the Seaver community about the effects of anthropogenic climate change on communities and/or ecosystems, either domestically or internationally. The student awardee will receive a $7,500 scholarship to support the development and implementation of their project. Mentors will receive a stipend for supporting the student fellow.
Additionally, the student fellow will attend the Climate Calling program during the academic year as well as other special guest lectures or events in association with climate-related work at Seaver College. The fellowship will culminate with a presentation of the awardee's project in April of the award year.
The first fellowship will be awarded for the 2022–2023 academic year. All applications are due March 15, 2022.
For more information, visit the Chris & Amy Doran Climate Fellowship webpage.