Sarah Fischbach Published in Business and Professional Ethics Journal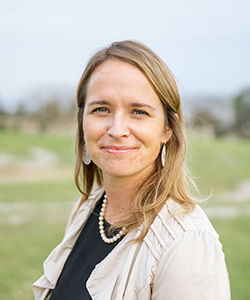 Sarah Fischbach, assistant professor of communication, and coauthor Jennifer Zarzosa from Henderson State University published a piece of their compelling marketing research in the Business and Professional Ethics Journal. The article, titled "Consumer's Perception of Native Advertisements," follows their four-year study on the effect of native advertisements on consumer decision making.
The motivation for the study began when native advertisements, a marketing style that blends sponsored posts with editorial content, first emerged as a prevalent marketing strategy. Fischbach found that since consumers do not always recognize they are viewing a native ad, consumers are more likely to trust the native ad over other forms of advertising (i.e. banner ad). Additionally, if the ad is targeted to consumers, their trust is even stronger, and they are more willing to share through electronic word of mouth (eWOM). Once consumers uncover they are viewing an advertisement, their confidence to make an ethical decision is swayed. This blow to consumer confidence may ultimately impact the consumer's overall trust of a brand or site where the advertisement was first seen. Fischbach recommends, because of this effect on ad trust, that brands be cautious in their use of native advertisements
Fischbach began instructing students in marketing in 2010 before earning her PhD in 2014 from New Mexico State University. She joined Pepperdine in 2018 and currently teaches in the Communication Division on topics such as marketing ethics and marketing pedagogy. For over five years, she has remained active in the Marketing Educators Association (MEA), an international organization focused on enhancing marketing education, knowledge, and pedagogy. Fischbach currently serves as the President of the MEA.
She has authored several graphic novels as a unique way to begin conversations on ethical thought processes. Fischbach is working with Sabrina Zeri, a fine arts student at Seaver College, to create a graphic novel on the subject of academic integrity.
To find Fischbach's article and additional recently published research, visit the Research News at Pepperdine archive.