Sarah Fischbach Examines Negotiation Simulation in Latest Publication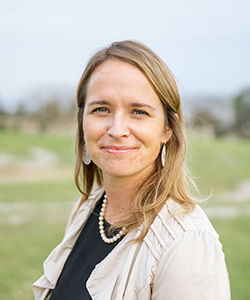 Sarah Fischbach collaborated with colleagues Judith Richards and Veronica Guerrero from California Lutheran University (CLU) on their latest publication "Negotiation competence: Improving student negotiation self-efficacy" in the Journal of Education for Business. The study focused on the effects of negotiation simulations on students' skills.
"The study showed that these activities build a more collaborative environment and break down the idea to enter negotiations with a combative stance," Fischbach shared.
The activity consists of five steps and lasts the length of the term. Students are first separated into three coalitions. Resources are dispersed unequally, and coalitions must meet at the bargaining table to form a productive partnership. At the end of the simulation, students reflect on their skills and practices that led to the decision. The study found that the simulation increased students' confidence, persuasiveness, and assertiveness—skills to better prepare them for negotiation and conflict resolution in their professional careers. Fischbach led her courses at CLU through the simulation and is eager to incorporate the same practice in an integrated marketing communication course at Pepperdine.
Fischbach joined Pepperdine in 2018 and currently teaches in the Communication Division. She conducts research on topics such as marketing ethics and marketing pedagogy. She has also authored several graphic novels as a unique way to begin conversations on ethical thought processes. For over five years, she has remained active in the Marketing Educators Association (MEA), an international organization focused on enhancing marketing education, knowledge, and pedagogy. Fischbach currently serves as the President of the MEA.
To learn more about the collaborative study, read the article on the Journal of Education for Business website.