Ruth Sessler Bernstein Publishes Book on Leveraging Organizational Practices for Equity and Results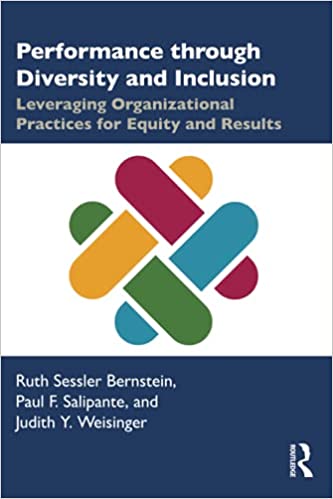 On September 30, 2021, Routledge published Performance through Diversity and Inclusion: Leveraging Organizational Practices for Equity and Results, authored by Seaver College professor Ruth Sessler Bernstein and two of her colleagues, Paul F. Salipante, emeritus professor at the Weatherhead School of Management, Case Western Reserve University, and Judith Y. Weisinger, formerly an associate professor at Mills College and New Mexico State University.
Performance through Diversity and Inclusion presents six evidence-based practices for managers and leaders to create positive interactions between individuals while leveraging their distinctive perspectives and talents. The six practices are pursuing a shared task, orientation, or mission, mixing members frequently and repeatedly within the group, collaborating with member interdependence, handling conflict, exhibiting interpersonal comfort and self-efficacy, and ensuring equal insider status. Those six practices create positive interactions that allow individuals to overcome the four primary anti-inclusive practices—self-segregation; apprehension, fear, and discomfort; stereotyping and stigmatizing; and implicit biases—and learn from one another to counter their pre-existing stereotypes.
Bernstein hopes that the book's evidence- and practice-based approach and its cross-disciplinary and cross-sectoral examples will inform workplaces and classrooms in and beyond Pepperdine. In her own classrooms, she has seen students excel as they incorporate these practices.
"I put my students into teams where I try to implement the six practices," Bernstein shares. "The team evolves over the semester as they overcome the anti-inclusionary forces, learn from one another, and focus on producing better projects."
Ruth Sessler Bernstein is an assistant professor of nonprofit management at Pepperdine University's Seaver College. Her research, which focuses on diversity, equity, and inclusion and nonprofit governance, has been published in Nonprofit Management & Leadership, Nonprofit & Voluntary Sector Quarterly, and the Journal of Business Ethics.
To learn more about Performance through Diversity and Inclusion: Leveraging Organizational Practices for Equity and Results, visit the publisher's webpage.