Roslyn Satchel Awarded Harvard's Berkman Klein Center Fellowship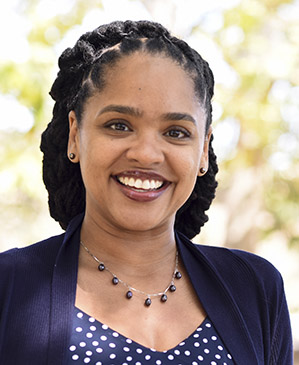 On July 14, 2020, the Berkman Klein Center at Harvard University announced Roslyn Satchel, Blanche E. Seaver Professor of Communication, as one of the center's 2020–2021 fellowship recipients. The fellowship connects recipients to the interdisciplinary scholar community at the Center to study how cyberspace interacts with society.
"During a moment in time where people worldwide are rising together to demand justice—racial, climate, economic, LGBTQIA+, gender, disability, immigrant, and beyond—it is our privilege to welcome such a dazzling chorus of voices to the Center," shared Rebecca Tabasky, the Center's director of community
With the support of the fellowship, Satchel—whose research focuses on intimate partner violence particularly in communities of faith as well as diversity and intersectionality in media, religion, and law—will study the influence of technology and media on resisting and/or reporting intimate partner violence. Satchel will also be analyzing the COVID-19 pandemic policies and the resulting domestic abuse increases from such policies.
Satchel's work continues to mark her as a dedicated scholar-activist whether her work be in the classroom, in the church, or in the media. Her 2016 book, What Movies Teach about Race: Exceptionalism, Erasure, and Entitlement, examines the highest-grossing films throughout history under a critical lens. She has received multiple awards including the Distinction in Diversity and Inclusive Excellence from Seaver College in 2017 and the National Communication Association's Feminist and Women's Studies Scholar-Activist Award in 2019.
For more information on the fellowship, visit the Berkman Klein Center website.