Recent Journal of Communication Research Volume Explores Resilience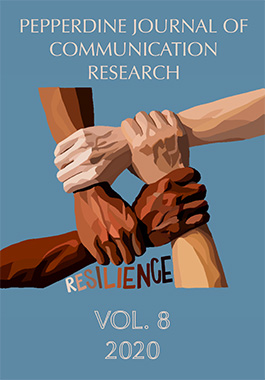 Seaver College's Journal of Communication Research published its eighth volume as spring 2020 came to a close. The journal recognizes outstanding undergraduate scholarship that explores interpersonal, organizational, rhetoric and leadership, and intercultural communication. The eighth volume centers on the theme "resilience."
"It's exciting to see how contributors identified resilience in their own respective disciplines from consumer data to interpersonal connections," shares the journal's editor-in-chief Daniela Singleterry.
As Pepperdine announced its transition to online instruction in response to the COVID-19 pandemic, Singleterry and her editorial team were about to begin accepting submissions to the spring 2020 volume. Her team adapted to continue reviewing paper submissions while also adjusting to their new online class schedules. In just over a month Singleterry had collected, edited, and published an impressive collection of diverse scholarship.
The volume features a personal essay on resilience amidst coronavirus from first-year Shelby Little; an analysis of hip hop and commercialization from junior Joanna Cabalquinto; a consumer data analysis of Youtuber Pewdiepie from juniors Lea Medina, Eric Reed, and Cameron Davis; and more.
To read the outstanding scholarship, visit the Journal of Communication Research digital publication.