Pepperdine University Mourns the Passing of Former Seaver College Professor and Divisional Chair Ken Perrin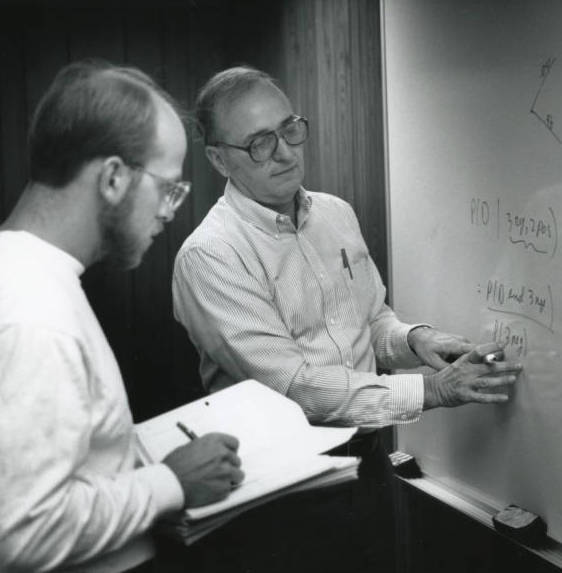 Pepperdine University is saddened to announce the passing of Kenneth Perrin, former mathematics professor and chair of the Seaver College Natural Science Division. He was 86.
"Ken Perrin is one of the greatest people in the history of Pepperdine University," says Michael Feltner, dean of Seaver College. "His leadership of the Natural Science Division and his advocacy of faculty, as well as his deep care of this place, is foundational to the student experience at Seaver College. He is one of my personal heroes. I'm indebted to him for my career at Pepperdine University."
A first-generation college student, Perrin graduated from Harding College in 1955 with a bachelor's degree in mathematics, and from Kansas State University in Manhattan in 1957 with a master's degree in the same subject. Upon graduating from Kansas State, he was immediately hired by his undergraduate alma mater to return as a mathematics professor. In 1966 he completed a doctoral degree at Oklahoma State University in Stillwater, Oklahoma, and once again returned to Harding, where he taught for another three years.
In 1969 Perrin arrived at George Pepperdine College and became an integral part of the relocation of the school from South Los Angeles to Malibu in 1972. Perrin was a fearless advocate for faculty rights at Pepperdine and a leader in such areas as tenure and promotion policies and gender equality. Prior to his retirement in 1996, he served as chair of the Natural Science Division, strengthening the department and helping faculty develop programs that emphasized faculty and student research.
"Professor Perrin was one of Pepperdine's earliest and most passionate proponents of enhancing student learning opportunities," says Lee Kats, Frank R. Seaver Chair of Natural Science, vice provost for research and strategic initiatives, and professor of biology at Seaver College. "He understood the importance of high-impact learning practices long before they became common across higher education and worked tirelessly to enhance both the teaching experience for the faculty member and the learning experience for the student. His foresight and vision for science education allowed him to be an outstanding administrator and leader for the Natural Science Division."
Beyond the classroom, Perrin and his wife, Libby, who served as the University field supervisor in teacher education, were founding members of the University Church of Christ and were actively involved in the church's activities from the time of its establishment in 1970, two years before the Malibu campus opened. They led the congregation as teachers and servant-leaders for benevolence, assisting those in the church community in transformative ways.
For decades the Perrins were also devoted to Malibu-based organizations, such as Standing on Stone Ministries, which provides food and supplies to the local homeless population; the Malibu Community Labor Exchange, which creates employment opportunities for day laborers; and the Artifac Tree, Malibu's only secondhand store.
Perrin is survived by his wife, Libby; their three children, Robin ('81), professor of sociology at Seaver College (Cindy ('84), Distinguished Professor of Psychology at Seaver College), Kelli ('83) (Dwight ('83)), and Steve ('85) (Suzanne); six grandchildren; and one great-granddaughter.
A memorial will be held Sunday, February 23, at 2 PM at Stauffer Chapel on the Malibu campus.