Pepperdine Theatre Department to Present Production of Medea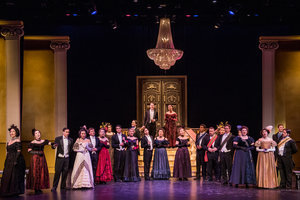 The Seaver College Theatre Department will perform the Euripides tragedy Medea at Smothers Theatre on the Malibu campus at 7:30 PM from Wednesday, April 4, to Friday, April 6, and at 2 PM and 7:30 PM on Saturday, April 7.
Medea is a wife, mother, and immigrant. When her husband abandons his family for a new life, she exacts an appalling revenge and destroys everything she holds dear. First staged at the Theatre of Dionysus in Athens, Greece, Medea has intrigued and terrified audiences for nearly 2,500 years.
The performances are based on a version of the play developed by British playwright and dramaturge Ben Power, which premiered at the Royal National Theatre in London, in July 2014.
Pepperdine associate professor of theatre Bradley Griffin will direct the student cast, which features C.J. Babcock, Sarah Barney, Nate Bartoshuk, Morris Chen, Will Craig, Sydney DeMaria, Mallory Erwin, Jackie Ferguson, Brit Hope, Peace Ikediuba, Isabel Klein, Kate Klimist, Clayton Mattingly, Audry McKee, Julia Pankow, George Preston, Madeleine Riddle, Katy Semple, and Isaiah Wright.
"The power of Medea lives on. It's one thing to read a Greek tragedy in a classroom setting; it's another thing entirely to experience that same story on stage," Griffin said. "In an era when some new atrocity scrolls across our news feed every day, the students in this production have committed themselves to telling this harrowing story as a way of bearing witness to the pain, while also exposing our desperate need for a more just, equitable world. Even at 2,500 years old, this is a story for today."
The production will feature an original musical score created by Pepperdine professor of music N. Lincoln Hanks.
Ticket prices range from $10 to $15. This production is not recommended for children under 12.
For additional information about this event, and to purchase tickets, visit the Center for the Arts website.