Pepperdine Students Premiere Short Films at 13th Annual ReelStories Film Festival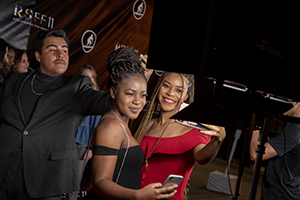 On February 4, 2022, the beloved ReelStories Film Festival returned to Mullin Town Square. Pepperdine Seaver College students made their entrance down the red carpet before joining the premiere of seven student-created short films—Last Call on Sunset, Finding Empathy: A Glimpse into the Life of a Paralyzed Surfer, Mushroom Pizza, Blanca, Honey, NaiNai, and Coffee.
The 13th annual festival centered on the theme "Unforgotten Story," which tackles human storytelling in its rawness, authenticity, humility, and painful vulnerability. The Best Picture and Best Directing awardee NaiNai, directed by film studies senior Gabbatha Hall and screen arts senior Jimmy Cui, encapsulated the year's theme effortlessly through its depiction of a young Chinese American attempting to rekindle a fractured relationship with his grandmother. NaiNai also took home the Best Screenplay award for screen arts senior Jake Kim's writing.
FindingEmpathy, which follows surfer Jesse Billauer's story and the role empathy plays in society, received awards for Best Editing and Audience Choice. Best Cinematography went to LastCallonSunset, a gripping story of a detective juggling a heart-wrenching decision.
The festival was made possible by the hard work of ReelStories executive directors Kayla Hanna, Messiah Israel, and Claire Lee. Careful award decisions were made by 10 judges, including notable Pepperdine alumni such as Terry Benedict, Alex Skinner ('09), and Ifeanyi Ezieme ('19).
To learn more about the event, visit the ReelStories Film Festival website.