Pepperdine Recognized as First Forward Institution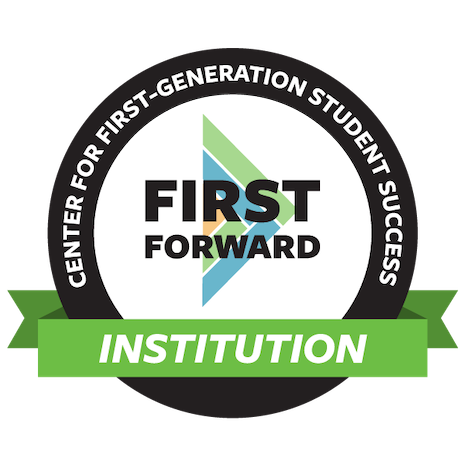 Launched in Fall 2018, Pepperdine's First Wave program offers support to Pepperdine's first-generation college student population. The partnership of the Student Success Center and nearly 20 Faculty mentors who were either first-generation students themselves or identify as advocates for first-generation students positioned the program for success.
As the academic year came to a close in April 2019, the Student Success Center earned recognition as a First Forward Institution from the Center for First-generation Student Success, an initiative of NASPA—Student Affairs Administrators in Higher Education and the Suder Foundation. Along with the acknowledgment, Pepperdine joined the inaugural cohort of First Forward Institutions to receive professional development, community-building experiences, and an early look at critical research.
"Through the application process, it was evident that Pepperdine is not only taking steps to serve first-generation students but is prepared to make a long-term commitment for important advances in the future," said Dr. Sarah E. Whitley, senior director of the NASPA's Center for First-generation Student Success.
Marissa Davis, director of Student Success at Pepperdine, said, "The recognition will give Pepperdine the opportunity to network with other schools passionate about supporting their first-gen student population." With 16.5 percent of Pepperdine's incoming class being first-gen students, "cohort will provide a platform for sharing ideas, successes, and insights to provide a meaningful academic experience for our first-gen students."
As the new academic year approaches, the Student Success Center is excited to launch the First Wave Ambassador program. Three first-gen students were awarded a scholarship to act as ambassadors and mentors. After their training on August 15, the ambassadors will begin weekly academic mentoring in the Student Success Center, coordinating targeted events for first-gen students, and much more leadership and support programs. With the resources and professional network of the First Forward cohort, Davis is looking forward to how not only the ambassador program will continue to change and grow, but also how the First Wave program as a whole will mature. To learn more about or offer support to the First Wave and First Wave Ambassador programs, visit their website.
NASPA—Student Affairs Administrators in Higher Education is the leading association for the advancement, health, and sustainability of the student affairs profession. Its work provides high-quality professional development, advocacy, and research for 15,000 members in all 50 states, 25 countries, and 8 U.S. territories.
The Center for First-generation Student Success is the premier source of evidence-based practices, professional development, and knowledge creation for the higher education community to advance the success of first-generation students. Through four strategic priority areas, the Center drives higher education innovation and advocacy for first-generation student success.