Pepperdine Mourns the Passing of Professor Michael Summers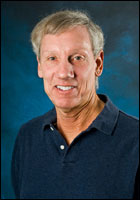 Pepperdine University mourns the loss of Michael R. Summers, professor of management science in the Business Administration Division at Seaver College. Beginning his tenure more than 36 years ago, Summers came to Pepperdine in 1980 and was the longest-tenured faculty member in the Business Administration Division.
"We are saddened at the passing of professor Michael Summers," says Michael Feltner, dean of Seaver College. "A longtime faculty member in the Business Administration Division, Dr. Summers cared deeply about preparing students for both professional careers and lives of purpose. He will be missed, but the legacy of his contributions to Seaver will influence the education of business students for generations. We join with Michael's wife, Ann, and his son, Adam, in grieving his death and celebrating his life."
Along with marketing professor Roy Adler, Summers was part of the team tasked with developing the five-year MBA program between the Seaver Business Administration Division and the Graziadio School of Business and Management. He also served for decades as the chair of the Credits Committee, a role in which he led the development and regulation of the policies outlined in the Seaver College catalog.
Summers earned his BS with highest honors, MBA, and PhD from the University of Illinois in 1969, 1970, and 1978, respectively.
"It is impossible to overestimate Mike's contribution to the Business Administration Division and to Seaver College," says Dean Baim, divisional dean of the Seaver College Business Administration Division. "During his 36 years at Pepperdine he was often our quiet conscience, and his steady wisdom was consulted by every divisional dean this division has ever had. Seaver College will be a sadder place without Mike."
Summers is survived by his wife, Ann; son, Adam; daughter-in-law, Wendy; and grandson, Collin. Details of funeral arrangements will be updated here as more information becomes available.