Pepperdine Mourns Passing of Professor Emeritus Milt Shatzer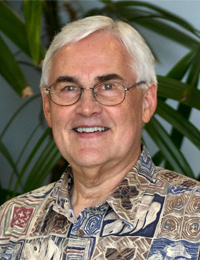 Pepperdine University is saddened to announce the passing of Milton J. Shatzer, professor emeritus of communication at Seaver College.
"An educator, scholar, and Christian servant, Milt served as both an example and mentor to several generations of Seaver College students," said Seaver College dean Michael Feltner. "Milt is remembered fondly by peers for his gentle demeanor, grace, and sacrificial commitment to Seaver College students and faculty. We celebrate his life and the positive impact of his work at Pepperdine on the lives of his students and peers."
From 1990 to 1996, Shatzer served as a professor in the Communication Division and led students in the exploration of intercultural communication; international communication and negotiation; media worldwide; and a freshman seminar focused on his passion—Middle East studies—entitled "The Israeli-Palestinian Conflict: Prospects for Peace Through Better Communication." His particular academic interests were related to the influence of college study abroad programs on US undergraduate students. From 1996 to 2003, Shatzer was the chair of the Communication Division and later directed the intercultural communication program from 2003 until his retirement in 2014. From 2003 to 2004, he was also called to serve as the interim assistant dean and director of the Center for Teaching Excellence. After his retirement, Shatzer continued to teach as an adjunct faculty member in the Communication Division.
Shatzer served as an elder at the University Church of Christ until 2011. He and his wife, Nancy, who has served as an internship coordinator and industry specialist for Pepperdine's Career Center since 1999, were devoted to their faith and served as missionaries in Nazareth.
Shatzer earned his PhD in communication from Michigan State University in 1987 and a master's degree in missiology from Abilene Christian University in Texas in 1976. In 1970 he graduated with a bachelor's degree in biology from the University of Toledo in Ohio.
Shatzer is survived by his wife, Nancy; son, Jeremy (JD '09); and daughter, Christin ('03).
A memorial service has been scheduled for Wednesday, January 3, at 2 PM at Elkins Auditorium on the Malibu campus, followed by a reception. In lieu of flowers, the family requests that gifts be made in Shatzer's memory to the Dr. Milt Shatzer Memorial Scholarship.