Pepperdine Mourns Passing of Professor Emeritus James Smythe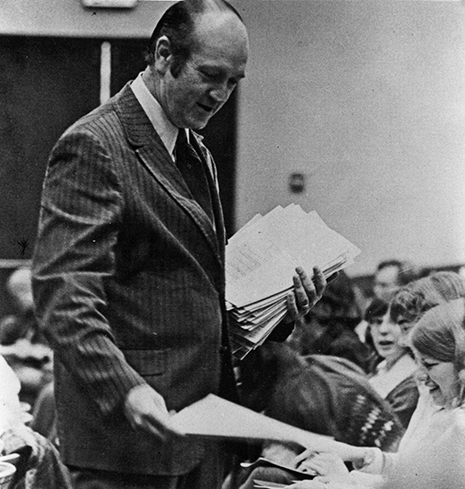 Pepperdine University is saddened to announce the passing of James Smythe, Seaver College professor emeritus of English, on July 28, 2019. He was 95.
"Dr. Smythe made innumerable profound and lasting contributions to Pepperdine during his career," reflects Michael Feltner, dean of Seaver College. "His legacy remains vibrant, and our memories of him will persist forever."
Born on August 6, 1923, Smythe lived a life full of Christian devotion and service. He began preaching in Churches of Christ when he was only 17 years old and continued throughout his tenure at Pepperdine at several churches in the Los Angeles area as well as in Alabama, Tennessee, and Illinois.
Smythe served Pepperdine in numerous roles beginning in 1952. As a professor of English at George Pepperdine College in Los Angeles and later at Seaver College when the Pepperdine campus moved to Malibu, he helped students develop the expertise to examine literature from spiritual and ethical perspectives. His leadership and contributions to student growth left a lasting impression long after the conclusion of his service as chair of the Seaver College Humanities and Teacher Education Division. Beyond the classroom, Smythe also served as a University archivist dedicated to the preservation of Pepperdine's history, an endeavor in which many in the community believe he played a significant role.
He is survived by his children, Aurora and Dan; six grandchildren, Jenny, Jason, Amy, Jonathan, Shannon, and Samuel; and five great-grandchildren, Mattias, Aria, Lyra, Micah, and Evan.
Smythe's family has planned a graveside service in Washington on August 2, 2019, where he will be laid to rest beside his beloved late wife, Betty.
To honor and celebrate his life, the family asks that contributions be made to Pepperdine University or any Church of Christ children's home.