Pepperdine Mourns the Passing of Professor Emerita Sonia Sorrell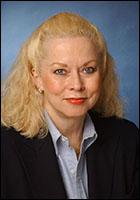 Pepperdine University is saddened to announce the passing of Sonia Sorrell, Professor Emerita in the Seaver College Fine Arts Division, on March 13, 2022, after a battle with cancer. She was 73.
"Sonia, my friend and colleague, was an inspiration to me. She was a brilliant teacher, creative administrator, and supportive co-worker," Melanie Emelio, professor of music, shared. "Sonia took me under her wing when I began at Pepperdine, encouraging me and winning my admiration. She was also a woman of conviction, and I loved that about her."
An Ohio native, Sorrell attended California State University, receiving a BA in fine arts. She continued her education at University of California, Los Angeles, and received a master of arts in both ancient history and art history, a combination that would be a gift to the many students she taught throughout the years in HUM 111 – Western Civilizations. She completed her studies with an EdD in Educational Leadership at the University of Sarasota.
Sorrell began her career at Pepperdine University as a lecturer for Fine Arts in 1991. She became a full-time faculty member in 1994, moved to an associate professorship in art history in 1999, and held the position of Chair of the Fine Arts Division from August 1999 to 2005. After twenty-one years of service, Sorrell retired in the spring of 2015, and she was granted emeritus status that August.
Sorrell was an excellent scholar––she wrote many chapters for textbooks such as Great Events from History and Encyclopedia of the Ancient World in addition to publications various journals. Her book, Galla Placidia: Empress of Rome at the Crossroads of History 389-450 AD, was published in 2012 by Benchmark Press.
She was also a beloved teacher. For a period of more than ten years, she taught two sections of HUM 111, a required general education class, every semester, giving her the opportunity to teach and impact nearly every student who passed through Seaver College. She received the Howard A. White Award for Teaching Excellence in 2010.
"Professor Sonia Sorrell worked tirelessly as a faculty member and chair of the Fine Arts Division so that the division could advance and improve both academically and in its commitment to the mission of Seaver College and the University," shared Rick Marrs, former Seaver College dean. "She utilized her creativity to suggest and implement programs that enhanced and enriched the talents of her colleagues and her division."
She resided in Lake Arrowhead, California, at the time of her passing, and she is survived by her husband, John R. Elliott.