Pepperdine Libraries to Host Panel Discussion on Ed Larson's Latest Book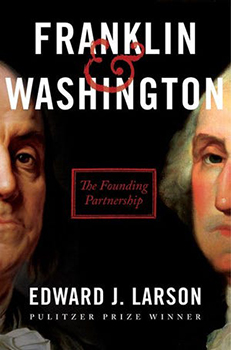 Pepperdine Libraries will host a virtual panel discussion on Pepperdine University professor and Hugh & Hazel Darling Chair in Law Ed Larson's latest book Franklin & Washington: The Founding Partnership on October 29, 2020 at 4 PM PDT. Anthony Pennay, chief learning officer at the Ronald Reagan Presidential Foundation and Institute will guest-moderate the panel consisting of Seaver College professor of English Michael Ditmore and Seaver College Distinguished Professor of Political Science Christopher Soper.
Larson's book sheds light on the collaborative relationship forged between two of the United States founding fathers. Although Franklin and Washington were markedly different in age and lifestyles, Larson's juxtaposition of the two shows how the two were connected in more ways than initially thought. The dual biography tracks their stories both independent from each other and as they connected to forever shape America's institutions.
Larson has received several notable awards and honors including the Pulitzer Prize for history in 1998. He joined the Pepperdine faculty in 2006 and has taught students history at Seaver College and Caruso School of Law. As a popular public speaker, he has taught in all seven continents and is frequently featured on media outlets including PBS, BBC, and NPR.
To register to attend the event, visit the Pepperdine Libraries website.