Pepperdine Improv Troupe Celebrates 20 Years with Special Performances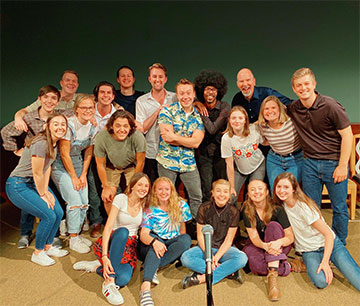 The Pepperdine Improv Troupe (PIT) will conclude its 20th anniversary celebration with two shows, hosted by director Brian Jones, on July 9, 2021, at 6 PM PT and August 6, 2021, at 6 PM PT. The summer series celebrated 20 years of PIT by bringing back alumni from different eras for special performances. The July 9 and August 6 shows will feature alumni from 2011–2015 and 2016–2020 respectively, as well as current PIT members.
The shows will be presented virtually, and attendees can participate by submitting ideas and comments in the chat. Following the show, attendees will have the opportunity to connect with one another.
"My experience with PIT as a student was great. It was like a little family," shares PIT alumni Alex Skinner ('09). "It was a great place to learn to trust your instincts and throw away any self-consciousness. It has absolutely impacted me, especially now as a professional actor. Listening and reacting are foundational acting skills, and PIT forced me to hone both of them in front of a live audience."
The Pepperdine Improv Troupe is a tight-knit comedic ensemble of 15 students, directed by two professional instructors. Originally founded by Tracy Burns in 2000, PIT has been a source of encouragement to the Pepperdine community for the past 20 years. From the bravery of its student performers to the laughs shared in spontaneous scenes, PIT supports and inspires the student body with its free, monthly shows in Elkins Auditorium.
To attend the July 9 show with the 2011–2015 troupe, register here. To attend the August 6 show with the 2016–2020 troupe, register here.