Pepperdine Celebrates Influential Women at Annual Women's Leadership Awards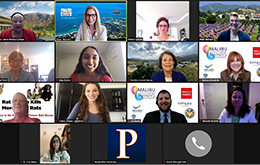 On Thursday, April 29, 2021, at 11 AM PDT, members of the Malibu community joined together virtually for the 2nd annual Malibu Chamber of Commerce Women's Leadership Awards sponsored by Pepperdine University. The awards celebrate the exemplary leadership of local women who are connected to Malibu and the Malibu Chamber of Commerce and who serve the community with their talents, energy, and skills.
The event opened with words from Barbara Bruderlin, the Chief Executive Officer of the Malibu Chamber of Commerce. She introduced this year's theme, Evolving for Success, chosen because of the way the awardees evolved and carried on over the course of the past year. After her remarks, Ian Roven, the former Chair of the Malibu Chamber, introduced the keynote speaker, Bernice Ledbetter, who serves as dean of students and alumni affairs at the Graziadio Business School and director of the Center for Women in Leadership at Pepperdine University.
"George Graziadio was famous for saying, 'Today, not tomorrow,'" Ledbetter shared. "That's how I feel about women in leadership. There's never been a more important time to advance women in leadership...there's never been a more important time to come alongside women and support their evolution."
Ledbetter also reflected on the evolving workplace, the evolving leadership of women, and the evolving business. Following Ledbetter's address, Roven introduced each of the awards and this year's awardees.
Avesta Carrara, office manager of the Seaver Alumni Relations Office, was awarded the Woman in Philanthropy Award for her role as a visionary woman who is not only successful in her field but also focused on benefiting the Malibu community by creating a culture of service and philanthropy through donations of time, talent, and resources.
"There is such richness and enlightenment in the gift of giving oneself and time, energy, and heart," Carrara shared. In her acknowledgments, she added, "My beloved Pepperdine has also been so good to me through all this….Our Malibu community is blessed by these wonderful students, dedicated staff, and faculty who lead by the motto freely received, freely give."
The next award, the Disaster Recovery Award, was also given to a Pepperdine community member, Cynthia Cornell Novak, a former Seaver faculty member. This award celebrates an individual who has demonstrated an exceptional commitment to the residents in Malibu during a time of need. The Woolsey fire pulled Dr. Novak out of retirement. With grace and fortitude, she generated teamwork and leadership to rebuild in the aftermath of the fire.
In between the awards, the audience heard from Heidi Bernard, executive director of the Crest Associates Program at Pepperdine and last year's Lifetime Legacy Awardee, as well as Adya Kumar, a senior at Seaver College. Kumar reflected on her own evolution during her time as a woman at Pepperdine.
"Looking back on this year as graduation slowly approaches, my variety of experiences at Pepperdine have helped me realize that, while things are constantly changing, your evolution and growth can really be centered around consistent aspects of your life like your community and self-care," shared Kumar.
Additional award recipients were Susan Manners, Lisa Benya, Kian Schulmann, Kathryn Jeffrey, and Karen Portugal York, who received the Lifetime Legacy Award.
York summarized the tone of the event well in her acceptance speech: "I was told this was a lifetime achievement award, and I said, 'No, I'm not done yet. I still have lots to achieve.'"
To learn more, view the recording of the 2021 Malibu Chamber of Commerce Women's Leadership Awards.