Pepperdine Career Center Hosts Fall 2021 Job Shadow Program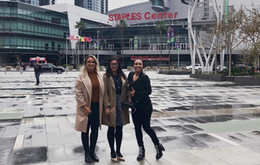 This fall, the Seaver College Career Center hosted the annual Job Shadow Program, which offers undergraduate students the opportunity to explore an industry, organization, or job function while shadowing Pepperdine alumni and friends of the university in their various work environments.
This semester 76 Seaver students were matched with 52 hosts, including 46 alumni, two parents, and four employer hosts. A variety of industries were represented in this semester's program, including healthcare, entertainment, finance, marketing, counseling, nonprofit, and policy. Some company highlights include NBCUniversal, The Walt Disney Company, Calabasas Mayor's Office, Paramount Pictures, EY, Wells Fargo, Malibu Coast Animal Hospital, Google, Kaiser Permanente, and SpaceX.
While each job shadowing opportunity was different, students were able to gain insight into the daily responsibilities of their host, engage in informational interviews with employees, and receive tips, information about the hiring process, and a tour of the company.
"The Job Shadow Program provides students with opportunities to see what jobs actually look like in their fields of interest or exposes them to ones they haven't considered," Maile Hetherington, director of career opportunities for the Career Center, shares. "We have such an encouraging community of hosts so students can feel supported as they explore their career interests."
During the pandemic, the Career Center pivoted its in-person shadowing experiences to virtual interactions. While in-person shadowing opportunities returned this fall, Hetherington believes virtual experiences will always be a part of the program now––both because of how common remote work has become and because of the possibility for students to connect with alumni and Pepperdine partners around the world.
To learn more about the Job Shadow Program and upcoming Career Center opportunities, visit the Career Center website.